My latest art endeavor has been to let the art lead the way. It is very freeing. Starting with no preconceived notion of what I want to create and waiting for images to appear. It fascinates me to see a finished product, and to take in everything that has shown itself to me. It makes me wonder, how do the images relate to me? How is it that those particular people showed up in the art? How did they get so interwoven with each other?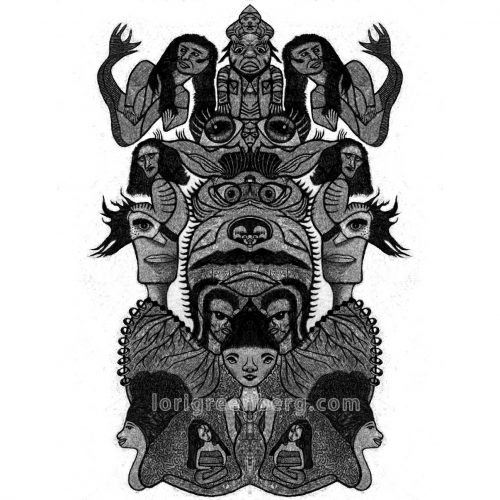 The process is a meditative journey, and the end result draws me deeper in, wondering about that journey that took place somewhere in my subconscious mind. It really is magical.
When you look at the modern-day totems that keep presenting themselves to me you see one thing, and then you see another. It's almost like an optical illusion, with your mind not being able to hold onto one image before it shifts into the next.
For someone who loves eyes, these are a perfect expression for me. I count 30 eyes. Thirty-three if you count sunglasses. Thirty-four if you count 1/2 sunglasses. And there were four more that didn't make the cut.