Ready for an online art journal class to to jumpstart your creativity?
In this online art journal class you'll learn how to build your own journal from scratch, get tons of decorative techniques, and see how to overcome creative block once and for all.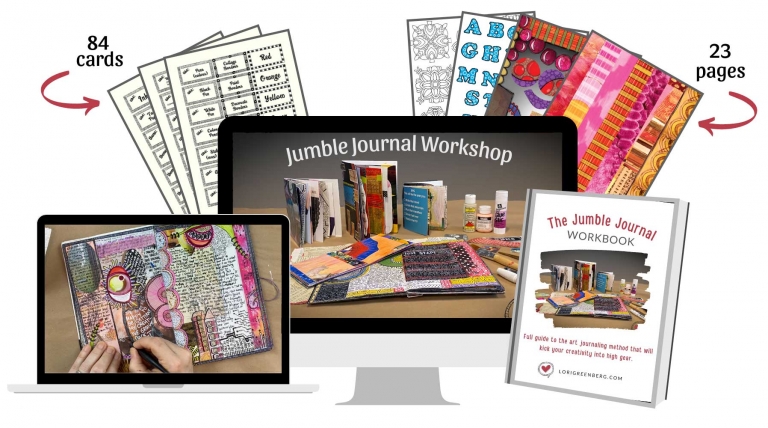 Are you familiar with Art Journaling?
It's pretty amazing, and a lot of fun.
Your art journal can be whatever you want it to be.
It's basically a book where you create art on the pages with mixed media.
Art journaling is:
Like a sketchbook but using mixed media art techniques like pens, pencils, paints, collage, pastels… whatever floats your boat!

A collection of pages on which you try new ideas with your art materials

A book where you can collect and save mementos from a trip, or event, like a scrapbook, but with supercharged embellishment
A mostly-visual journal of your days, or ideas, or, well, anything you'd like!
An over-the-top decorated planner or calendar

A place where you can process and work out what's on your mind

Anything else you can dream up… the sky really is the limit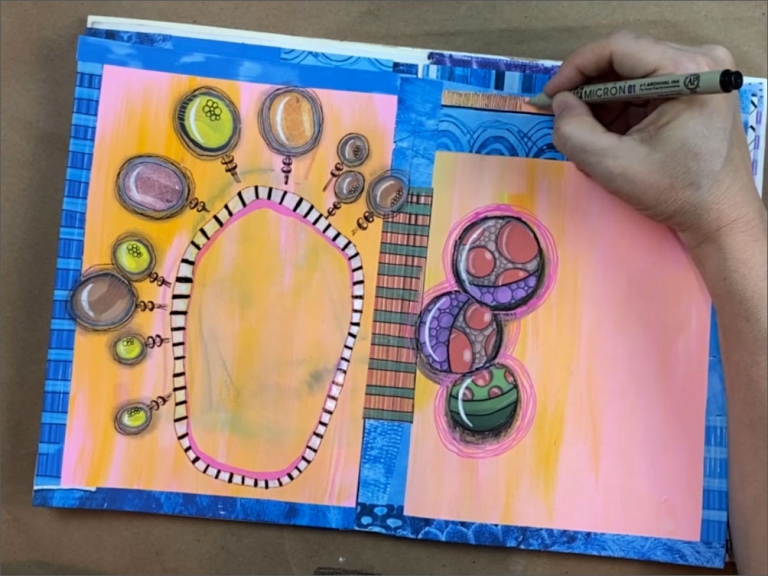 Getting started with Art Journaling on your own might seem overwhelming...
So many different styles, techniques, and supplies to choose from. Information overload!
How many examples below can you relate to?
You don't know 

HOW to get started

, so you put it off for later, but later never comes.
You don't know exactly WHAT you need to get started. You've watched all the YouTube videos but there's just too much information.
You wonder WHEN you'd even find time for another hobby because you have so many unfinished projects and are already so darn busy.
You're afraid you'll just waste time and materials because you never seem to get it right, so why bother.
You're overwhelmed because you have so many ideas and things that you want to try that you can't focus on just one.
You wish someone would break it down for you and give you direction because you're tired of trying to reinvent the wheel.
You wish there were an online art journal class where you could

work at your own pace

.
That exhausts me just thinking about it!
The good news is, I know a different way, and I can show you how to use art journaling that will have you…
Sitting down with your art and craft supplies and slipping right into the creative flow… 
Loving everything you make, and the new ideas just keep coming, only now you don't feel overwhelmed..Losing track of time, and not remembering the last time you felt so relaxed…
Enjoying art journaling so much that you want to get all your friends together to show them how, too…
Finally understanding what it means to enjoy the process, and you wonder what took you so long…
Not being afraid to try new things because you can use recycled materials, so you don't fear wasting…
Feeling at ease, creating in ways that you'd never dreamed, and being inspired by your own ideas…
Knowing that you'll never be creatively stuck ever again!
Sounds pretty awesome to me!
What about you?
If you think so too, check this out…
The Jumble Journal Workshop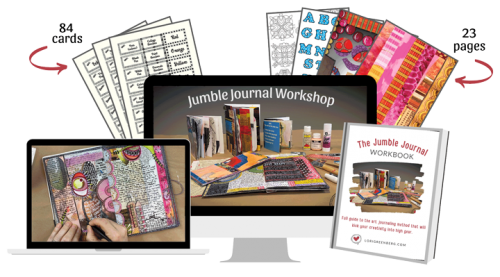 "I can't wait to make more journals!"
Thanks so much for the wonderful journal making class! You are such a superb teacher! I learned so much and your encouragement really helped me try some new stuff that was a lot of fun. I can't wait to get home and make more journals!
–Diane L.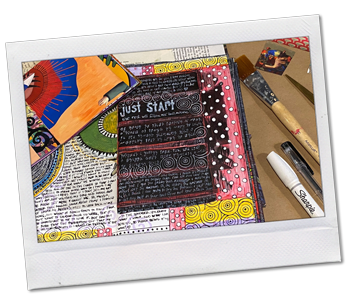 This online art journaling class will teach you my no-fail signature Jumble Journal Method and everything you need to be:

Self-Inspired
Generate your own ideas and inspiration instead of always looking elsewhere

Fearlessly Creative
Create bravely, and kick that inner critic to the curb once and for all

In the Flow
Get into the creative zone, and stay there when you sit down to create. Every. Single. Time.
You'll leave this training with all the skills you need to start art journaling, and a new mindset that will keep you from ever feeling creatively stuck again.
"I'm inspired again!"
I love seeing what you're making and think you are amazing! Your analysis of what to do differently really explains what you have learned and it helped me a lot. Thank you for sharing your art journey. I'm inspired again!
–Marcy G.
And as they say, "But wait, there's more!!"
When you enroll in the online art journaling class, The Jumble Journal Workshop, you also get these amazing art journaling bonuses that will make your creative process so much easier:
BONUS #1: Instant Inspiration Deck
$45 value
Never be at a loss for new creative ideas again with these inspirational challenge cards. Just cut out, shuffle, and choose one, or more, to be on your way. 84 cards include:
Ideas to get you started
Mindset reset reminders
Inspirational boosts
21 blank cards for your own inspirations
These are the exact cards and prompts I use myself when I need a quick shot of inspiration to get started creating. Game changer, for sure!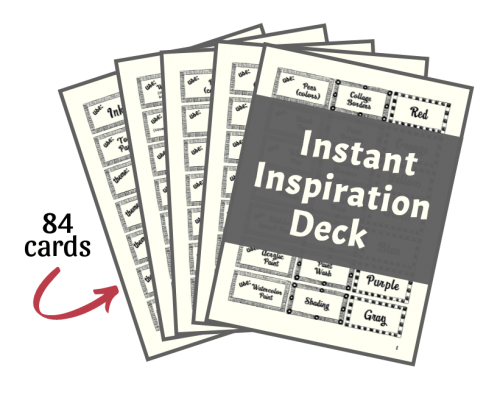 BONUS #2: The Ultimate Jumble Journal Workshop Workbook
$97 value
The companion guide to the online art journaling class that breaks down everything in the workshop and provides easy access to all of the steps to make Jumble Journals.:
22 pages that include all the steps, tips, and creative mindset reminders

Mindset Resets, tips, and tricks for success

Supply list with links for inexpensive AND sky's the limit supplies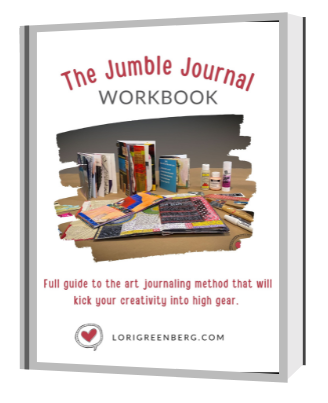 Ready to jumpstart your creativity?
I'm Lori Greenberg, and I'll walk you through it all, step-by-step.
I'm obsessed with all things creative, and I can't wait to show you how to tap into your own flow of creative ideas!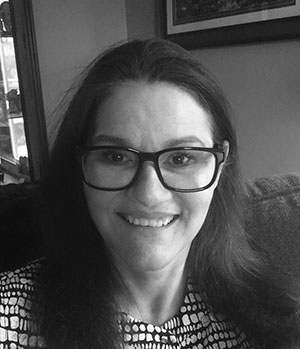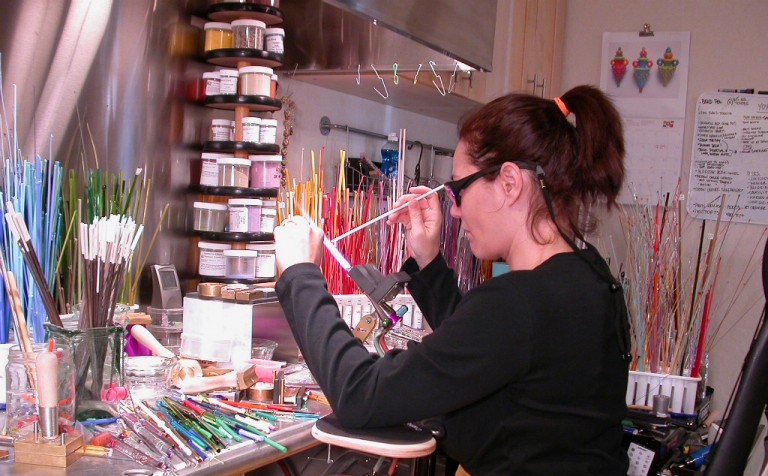 I've been around the creative block a few times and I've never met an art or craft that I didn't love or at least want to try. So many times though I've stopped myself because I'd start looking into it and would feel overwhelmed with all of the differing information about how to go about it.
Art journaling was one of those things that I used to admire from afar.
I used to scroll in awe through the unique and interesting creations that I saw online and never dreamed that I could do it myself. Then one day I stumbled on an ad for a mixed media workshop and I signed up.
That weekend, art journaling changed my life.
I went home and dug deep into everything I could find about paper arts. I ended up developing my own style of junk journaling that skyrocketed my creativity, motivation, and inspiration. 
I created this Jumble Journal Workshop for others who might be interested in art journaling but don't know how or where to start.
I also wanted to share the method with makers who experience slumps because it supercharges creativity.
I cannot wait to show you how, in this online art journaling class, and to help you on your own journey!
BEFORE THE JUMBLE JOURNAL WORKSHOP:
You want to get started but you're overwhelmed by all of the information and art journal styles out there.
You're stuck in a creative rut and tired of making exactly what you see in online tutorials, you want a style of your own!
You have all of the supplies and are at a loss for what to make… you always wonder how others come up with their ideas.
You see all kinds of cool art out there but you're afraid to try it yourself because you don't think you can do it.
There's never enough time to create and you don't want to start something you can't finish.
AFTER THE JUMBLE JOURNAL WORKSHOP:
Getting in the groove is easy

,

and you're no longer afraid of a blank page. (you just gotta get your butt in that creative chair!)

You can't believe

how easily new ideas come

to you.
The process of creating feels so good that

you get lost in creativity

, and can't get enough of your art journals.
You always know exactly how to immediately get into the creative zone.
You're creatively adventurous and love trying new techniques to see where they may take you
You know that magic can happen even when you only have a short time to work.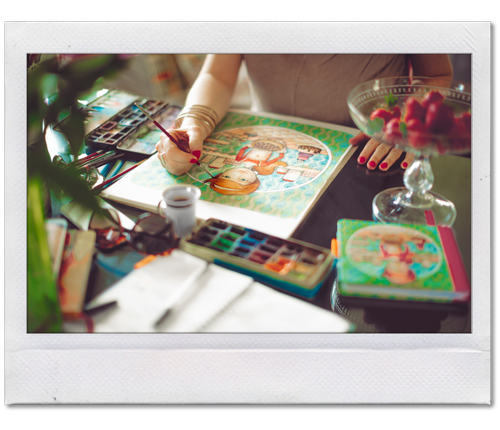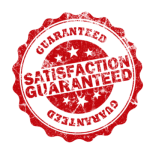 Due to the fact that you could watch the entire online art journaling class in just a couple short hours, I do not offer refunds for this product. 
However, I want you to be absolutely thrilled with your purchase, so please reach out to me at lori@lorigreenberg.com if you have any issues and I'll be happy to resolve them with you.
FAQs
Do I get lifetime access to the workshop?
Yes!
What is the time commitment?
The workshop is approximately 3 hours, and is broken up into shorter, easy-to-follow, video lessons. You will learn everything you need to know to make your own Jumble Journals. Making of the actual journals will take more time, and how long depends on how detailed you want to get. Think of an art journal as a sketchbook.
Are there any prerequisites?
No prerequisites required. This workshop is designed for all levels.
Are there any other material equipment costs besides the enrollment cost of the workshop?
You can make Jumble Journals with minimal purchased art supplies–you probably already have enough basic supplies on hand.
What materials do I need to make a Jumble Journal?
Recycled paper products like bags, junk mail, magazines, post cards, etc., glue, tape, scissors, art supplies of your choice (anything goes!), string, large needle, something to poke a hole through a stack of papers.
Do I get support, community, or access to you?
This workshop does not currently have an online community. I'm happy to answer questions about the workshop but I don't provide further art journal techniques, as they'll be covered in future workshops. I'd love to hear what else you'd like to learn, though!
What is the refund policy?
Due to the  digital nature of the Jumble Journal Workshop (and the fact that you could consume the entire product in just a few, short hours!) I do not offer refunds for this product. 
However, I want you to be absolutely satisfied with your purchase, so please reach out to  lori@lorigreenberg.com if you have any issues and I'll be happy to resolve them with you.
What is the investment, and what does it include?
The regular price of this workshop and bonus items is $97. This includes the 3-hour workshop, lifetime viewing access, 22-page downloadable workbook, the 24-page Ultimate Collage Bundle download, and printable Inspiration Deck–this is the actual deck that I use on days when I need a creative boost.
What are the payment options?
You can pay by credit card, or PayPal at checkout.
Do you offer any guarantees of results with this training?
I'm known for sharing generously in my print articles, blog, and on social media. This online art journaling class is no different. I guarantee that you will be fully equipped to make your own Jumble Journals. Drop me a note if you have any questions.
​(Don't see your question answered above? Shoot me an email at lori@lorigreenberg.com and I'll personally get back to you).
If you're ready to jumpstart your creativity and get going with art journaling, get instant access to the full class, and all of the bonuses, now!