This is what I've been working on lately.  These are the first round and I have to say I'm pretty impressed with myself.  Not impressed like these are perfect but impressed like they were experiments, first-try-and-they-don't-look-like-cr@p, which most of my experiments do and they never see the light of the camera.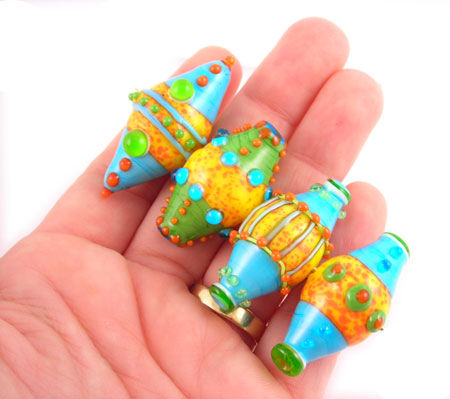 They were made with the Zoozii Cone Drop.  I don't have the top part that makes the bicone but I probably should get it because it would make things go a lot faster!  I just love this shape.  There is something about it that speaks to me. The colors aren't too shabby either.
These individuals are on sale on my site.  I know I've been remiss about selling on here lately and I do need to get back to it.  I have so many irons in the fire that I can't choose which ones to focus on or what direction to go because they all hold my interest strongly.  From of course, a book, a new opportunity to make and sell more art pieces that barely include glass (can you believe it?), some jewelry shop and museum gift shop opportunities and travel.
But you see, then that thing called life comes in. And that takes precedence.  And all of those other things have to wait.  So, I guess I'm saying, get 'em while you can because I don't know where I'm going to be pulled next week!