Lorraine Chandler, come on down!  Soap bubbles it is!  Looking at all of the responses I have to say that you all are pretty observant of your surroundings.  I never realized how many things look like bubbles…opals, glitter, fake snow, etc.
Here is the original picture.
.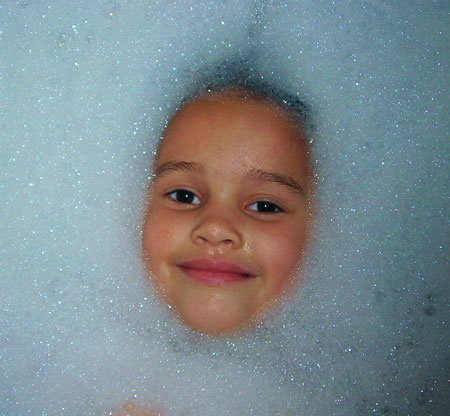 Now, I know what you might be thinking.  At least one of you.  I said specific is better and someone did guess bubble bath which this was, indeed!  So, I will also award a prize to Suz of suzanne-catching-up blog.  Dishwashing bubbles was pretty good too but that is the instance of being specific working against you.  But good try!
And for one that just made me laugh, Jean gets something too for the inside of a baby diaper.   Well, she doesn't get something for the inside of a diaper…she gets something for that guess.
So, Lorraine, Suz and Jean, send me your address and I'll get your winnings in the mail.
p.s.  I haven't heard back from Linda for last week's WWII winning guess.  Get me your address, girl!
Whew.  That was fun.  I know I'm a day late and now a dollar short because I've been sitting here typing this.  But, regardless that it's Thursday and my contest is titled Wednesday…I'll be back later tonight with another round of WWII.  Be sure to come back!  (or subscribe).   Thanks for playing.