Most people love piles of beads, right?  Here's a little pile that I have grand plans for.  Large hole rings and spacers in light, airy transparent colors.  Can you just see these in a long linking looping necklace?  No?  Me either.  I mean, it sounds good and I have a slight idea but I haven't quite figured it out in my head yet.  So, while most people like piles of beads, to me, they're a bit overwhelming.  You should see the pile that will never see the light of day outside the studio!  I'm being haunted by them.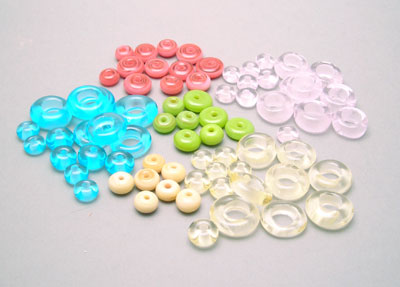 I seriously need to get into jewelry mode.  But I don't know why.  I'm ready for a change.  A new direction.  Do I sound confused today?  My head is spinning a little.  In the last few weeks at the torch, what little time I have had, I have been playing.  I've been making everything from fish to spacers to buttons to charms to hollows to beads with words on them.  I'm surprised I haven't made a bird since I'm seeing a lot of those around lately.
Of course, in the 'playing stage' nothing is perfected, there are many different variations on one theme and I don't know where to go with any of it.  So I keep going.  There are so many things running through my head! Stop the voices!
On the upside…I have lots of beads to show you in the upcoming days.  Make sure you subscribe so you don't miss any of them!  In a reader or have posts sent to you by email!