Remember the reverse bicone beads that I was so excited about? I got even more excited about a color combination that I have been trying to achieve for two years. Yes. TWO YEARS. The perfect brown with the perfect blue. I finally achieve it. Aren't they absolutely gorgeous?
I'm moving into a new 'era' in the way I work and spending more time on projects. This set took two days to make…not counting the two years I've been trying to get this color combo right. Two days! I've never worked that long on a set of beads. I cannot begin to tell you how puffed up I felt when the first five came out of the kiln. It was all the incentive I needed to finish the full set.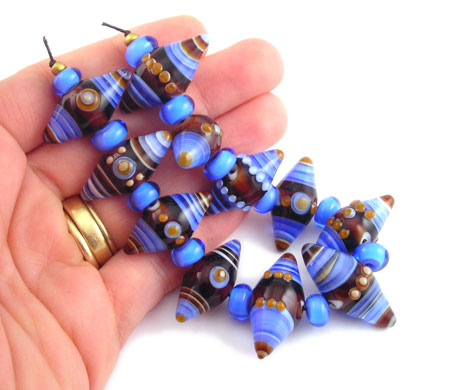 Don't they just knock your socks off? The only thing that could make them better? If some of them didn't have hairline cracks. GRRRRR! I should have known better! DO NOT ENCASE PASTELS WITH TRANSPARENT CHECK GLASS! I don't have the brain cells to figure out 15% and 25% ratios of what is safe. A good rule of thumb for me? Don't encase with Check Glass.
I'm a little leery to try this with the Effetre glass I have too because one of the ambers (lt, med or dk) has a compatibility problem too and I'm not sure which one. Someone tell me…why is it that I don't work only with Bullseye that is fully compatible with itself?
But, lesson learned; skill gained. That doesn't mean that I don't have other great color combos up my sleeve. I'll be kicking myself that I wasted three days (yes, I made more today before I realized it)…and so close to my shows. Will I be ready in time at this rate? Stay tuned. Show season officially starts October 18. (I'm not counting last months flop).