As I mentioned previously, when I first attempted silver fabrication, it didn't click. The solder didn't flow right, I incinerated a few pieces, sawing was way more cumbersome than I wanted to deal with, and the equipment I had for polishing just didn't do the job.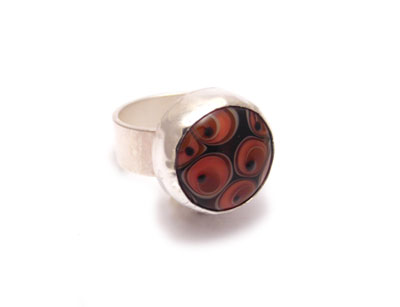 No matter what I tried to help incorporate other media into jewelry that used my glass beads, I couldn't achieve the effects I wanted. I knew that what I wanted to do needed the skills of silver smithing.
Like with many things that I want really badly but just can't seem to grasp, it haunted me. I tried PMC. I tried stained glass soldering (don't ask). I tried wire work. I tried buying pre-made bezels. I tried using metallic looking glass to frame beads. My inner perfectionist was not satisfied…it knew I was avoiding the truth…
I was going to have to go back and wrestle with fabrication.
I continued to resist as I kicked the idea around. I considered taking a class locally. But somewhere along the way I promised myself that no matter what new media I pick up, I will strive to be 'self-taught.' I don't want to pick up someone else's style…it's hard enough to not do that with all the images out there on the internet and in magazines these days.
Sure, being self-taught might mean my work looks more rough and not 'perfect' because all of the techniques won't be executed like they're 'supposed' to be but that is what, I think, gives pieces character and it is what leads to new designs. At least, for me.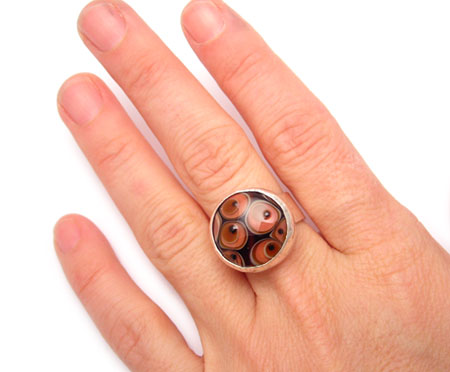 This was the next piece I came up with. A simple-looking bezel set ring of one of my glass beads. I'm in love with it. Of course, my technique needs refinement. Lots of refinement. But for me, it's wearable and it the weight feels really good. I'm getting there.