Here are some more of those sweet little Gaffer experiments: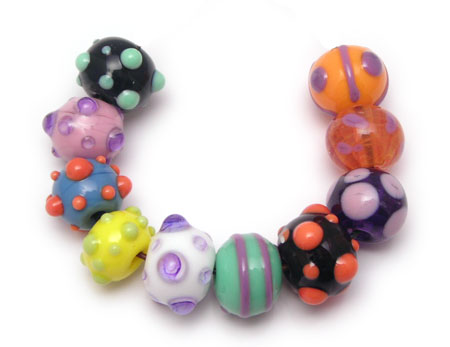 I really DO need to order more glass.  I've been telling myself that for the last few months but somehow, I manage to get plenty of beads made with what I have.  Go figure.  Anyone who has seen my studio knows that me needing to order more glass is um…what would you call it?  An obsession?  I've been doing pretty well living out of inventory.  Mona had to go and do it to me though when she sent me home with these juicy Gaffer colors.  Just enough to tease me into wanting more!
Just look at that minty color and that Taxi Cab Yellow (pumpkin).  The denim blue is pretty cool and the veiled purples rock.  ::sigh::
It's kind of fun to make these really primitive looking, tiny, two-color beads too.  Just picking up a couple colors and putting them together.  Not trying to create any kind of masterpiece or worrying that it 'won't turn out'.  That's the whole fun of testing.  No expectations…just seeing what happens.