How do you work? Do you force designs based on what you think people want? Do you follow your gut on what to make and then find the market for it later? Do you plan ahead, or do you 'play' and let creations come out as they will? If you make one thing that sells well, do you make more and more of it? Are you a 'one-off-er'?
I've run through all of these scenarios and I do a little of all of them at different times. I have struggled with wondering what the buying public wants and really trying to fit into that mold but it never feels right. You've followed my struggles with trying to work on bright colors. While that was (still is) a great challenge for me and I learned a lot, it still doesn't feel natural. But because of it, I can now incorporate brighter colors into my work. So, yay me on that.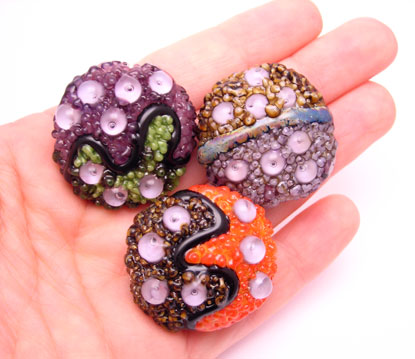 When it doesn't feel natural, that same spirit isn't in the work…it doesn't sell as well. Yes, it sells but I don't get the reaction that I get for my more earthy designs.
It's funny to me that when something is selling well and getting a great reaction (my earthy, organic beads) and I feel good making them, I still push myself to do something that I think others want, rather than what is good for me and what works. What is THAT all about? That sounds like insanity, doesn't it? Like personal flogging. I think I need a counselor.
Oh…and…I've been busy getting ready for Tucson (I'll be at Best Bead Show) and haven't been focused on selling from my bead site.  If you see anything on the blog that you like, it's for sale!  The ones above are $45.  Just drop me an email with the date of the post and the one you like.