This is an art journal page that I started a long time ago. Acrylic paint and paint pen on watercolor paper. As you can see, it's gotten overly busy. I love my detail, yes I do. But, it doesn't make for a very grabbing finished design without some kind of frame, and the border isn't defining enough.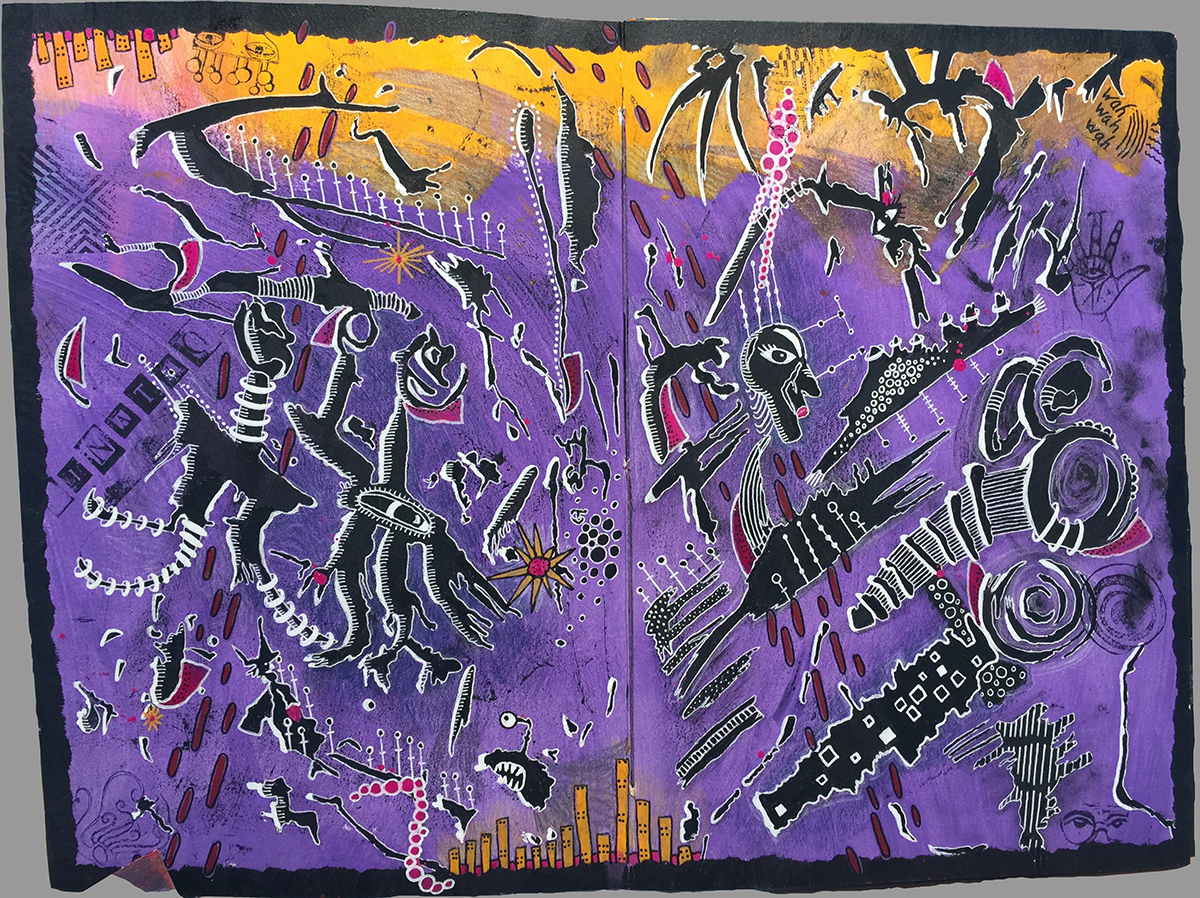 I've looked at this page over and over. There are elements I really like, and some, not so much. I'm not really fond of the purple and yellow either. I kept putting it away and coming back to it. I gathered up my courage and just went for it…blacking out some of the areas that weren't as exciting to me. Once again I realized that once I get started, it starts to take on a life of it's own.
I was really pleased with the bold black areas that I added, and I decided to call it a night. My friend, Chris, pointed out that it looked like a silhouette in the middle and I thought, YES! I did not see that when looking at the actual piece but it's pretty obvious in the photo. I highly recommend taking a photo of your work to gain a new perspective.
I came back the next day, ready to tackle the face in the middle and again, I was paralyzed. I didn't want to mess it up. So, once again I pushed past my comfort zone and dove in, knowing that it will all unfold as it should, and if it didn't, I still had plenty of black paint to start again.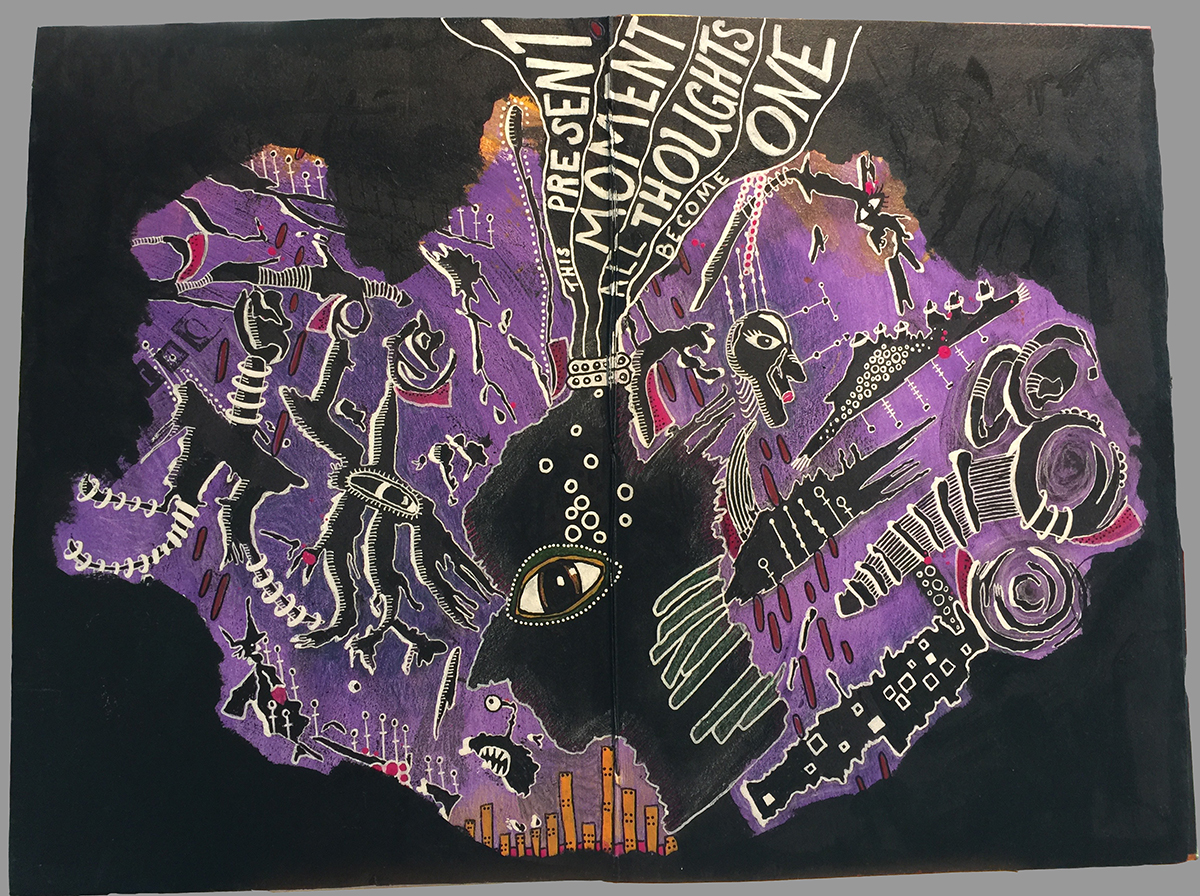 I liked it! But then thought, "I can't just leave all that black there!" So I set out again, and think I took it one step too far. The new detail, shown below, took away from the impact of the vivid black. As did the white colored pencil shading I did. Boo.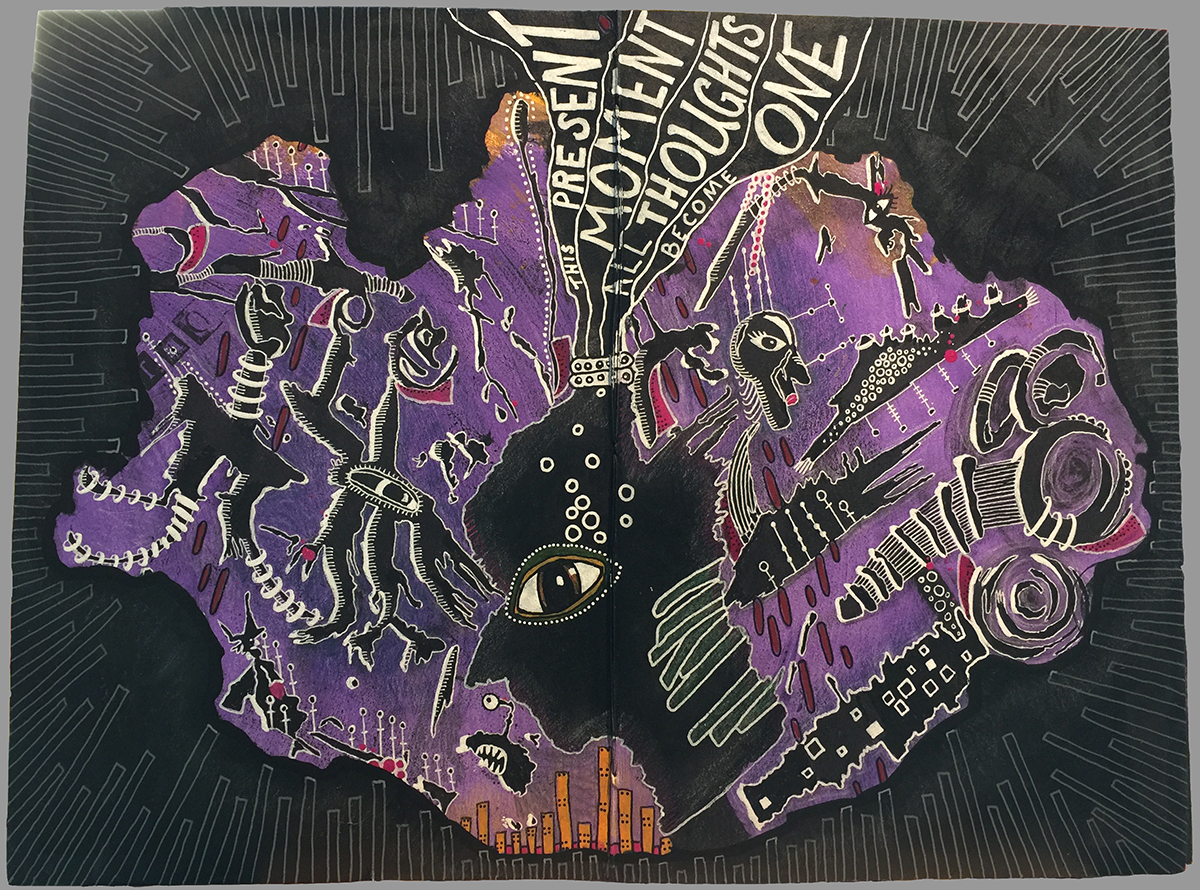 And if that weren't enough, I even took it a step further and started to add color to those new plank shapes that I added. Ugh. I'm going to keep going with it because, well, you never know. And yes, always the painting over it with black to fall back on. I'll keep you updated, if you'd like to follow along. One of these days I might feel done.
I do love the feel of the paper as the layers accumulate. It starts to feel leathery. I also think that the previous layers do show through, even though you can't really see them. I don't know how to put that into words, but you sense it when you see it in person.