Yesterday I created my first junk journal. A junk journal is a book made with found pages and collage. You can use anything to build a junk journal. This one contains covers and pages from other books, postcards and promotional flyers, a gift bag, and some of my own printed images. Along the way you can tape in other ephemera too.
This is a long post but it's mostly images. I started out wanting to make a gratitude journal but don't want to limit myself. I tend to have tons of post-its and scraps all over the place with ideas, inspirational quotes, or things that just pop into my mind. This is what I will use this journal for.
It is not finished, and I'll point out what I want to do further as I walk you through the pages.
First, is the cover. It is made from the cover of a book that I got from the Phoenix library sale … a coffee table art book for under a dollar.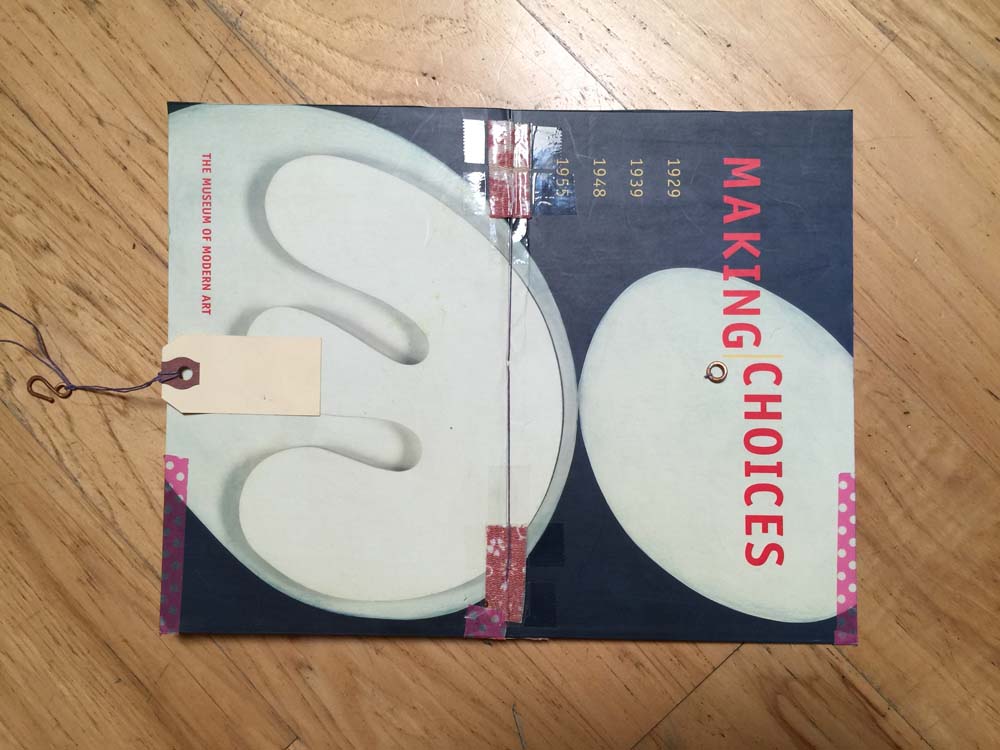 I used fabric tape to help secure the binding but it wasn't sticking so I scotch taped over it. I'd like to create a better solution for that. I also don't like the color so I might collage over it. Or have considered painting on the entire cover as it doesn't really strike me.
Below is the inside cover. The original book cover had a flap and I turned it into a pocket. I plan to write over large areas of open space with different colored pens as needed for the background colors.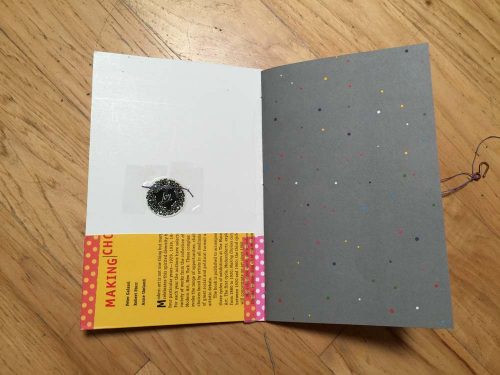 The white page will be nice to write on and draw on. Below, the solid areas of color will be easy to write on but I may gesso over, or collage sections with images that are easier to see text against. I also plan to do doodle pen work on images just for fun.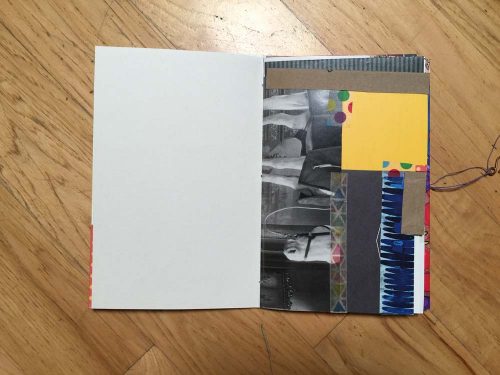 Pages like the one below were built with different pieces from various mailers and pages. I bordered them with washi tape for added durability but I didn't have much to choose from and would not have chosen these designs, so that might be reworked at some point.
The borders are strips of collage that are folded over and taped down from behind. They give thinner pages a little more durability.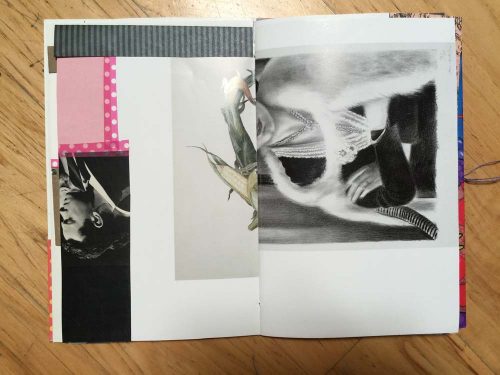 Below, the pinkish border on the right is from drawings I've done in Procreate, on the iPad. It's fun to see my own work incorporated.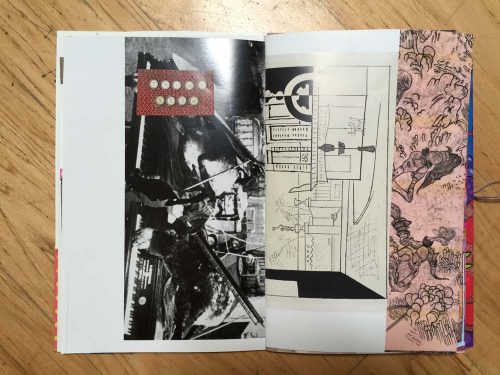 Below shows another border on the left that is from scans of other journal pages that I've painted, collaged, and further decorated with pen work. You can click the images to see a larger image.
Whoops. The photo below is upside down. I messed with my photos enough already trying to get them from Apple Photos to Photoshop, optimized, then here. So I'm leaving it.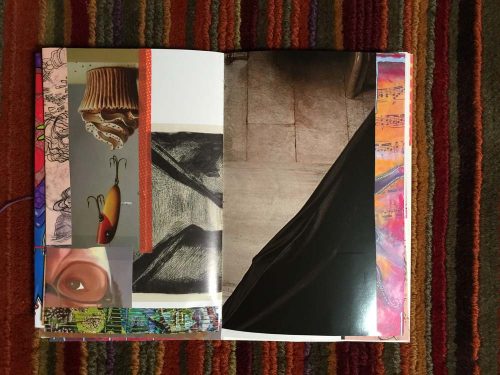 Heavy images on the one below, again, I'll have to work in a way to make more writing space, maybe. The eye is me, from a photo I used Procreate to paint over on the iPad.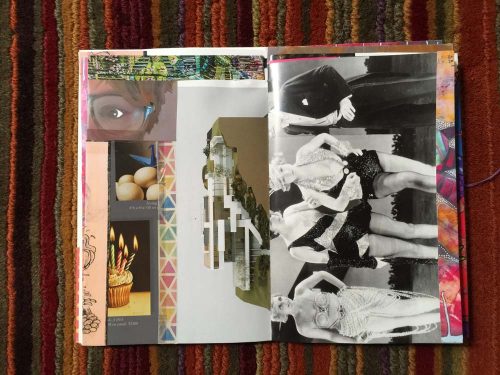 More work pieced together on the left. Many junk journals have different sized and shaped pages, like lots of irregular tabs all over the place. I found that I liked making my pages more uniform, like a regular book. That's why there are so many piecemeal parts on the page, building them out to full size.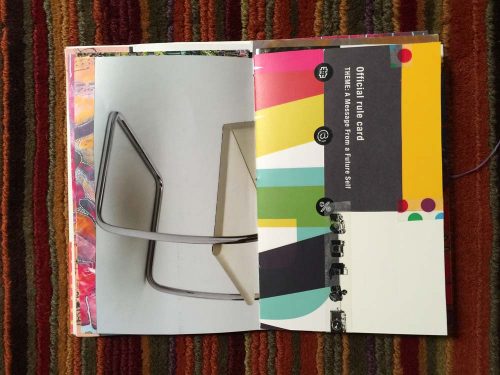 I think this book came to about 40 pages to journal on. Twenty spreads in all. That should keep me busy for a while but I already want to start making another one. I need another library sale for more images to choose from!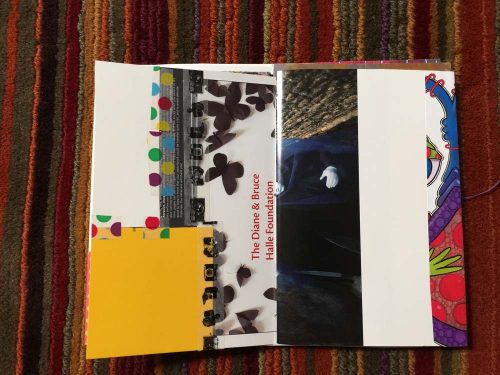 Above, for the right border, and below on the left border is a swatch from one of the "creatures" I drew on the iPad. I really like how the colors came out, even if my printer doesn't print true to the image.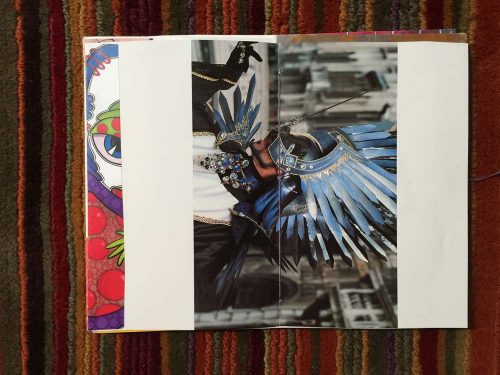 Theres' a bigger piece of my creature, below, taped in.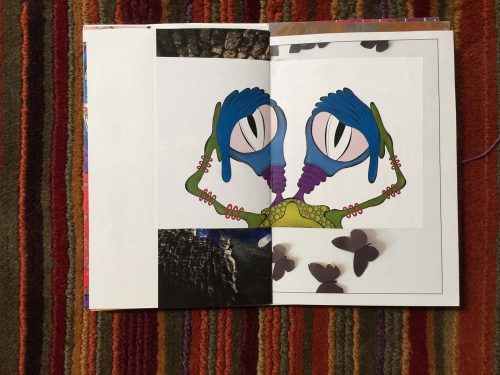 My favorite, from a page of the Phoenix Art Museum flyer on an exhibit of Warhol's portraits. And on the right side, a business card from Jesse Reno, whose three hour workshop I took at Artfest Rising. I love being able to use business cards and postcards like this for reminders, like in scrapbooking.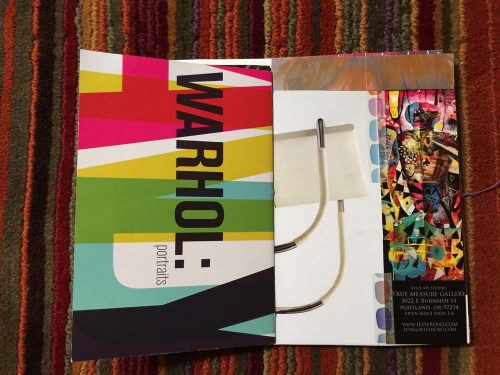 The other side of Jesse Reno's card and a little of my own work along the top and a nice big spot for writing in the white area. I like the black swatch too, as white pen on black is very impactful.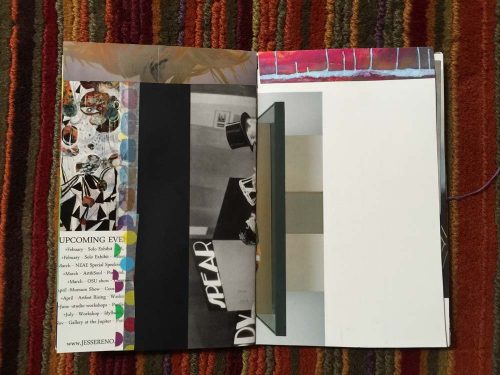 Below, pages from the art book I got the cover from and promotional postcards I've received in the mail. This is turning out to be so special with all of the elements that I'm afraid to write in it for fear of messing it up. I have to remember, it's a "junk" journal and I can always make more.
I'm looking forward to seeing what it looks like all filled up. As it is, in it's very unfinished state I've already flipped through it multiple times. It just feels so good in my hand, and to think that I made a book, is pretty cool.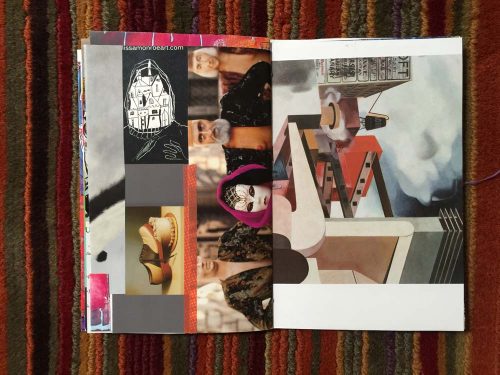 Below on the right is a a paper gift bag that I incorporated. I kind of see it as lined paper to use with a colored pen. The bottom right corner is a gap, and how many junk journals are left but I'll fill it in with a rectangle of something else I find to tape in.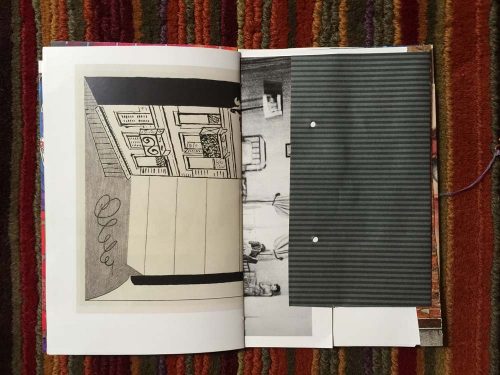 The other side of the bag and some more white space waiting for me.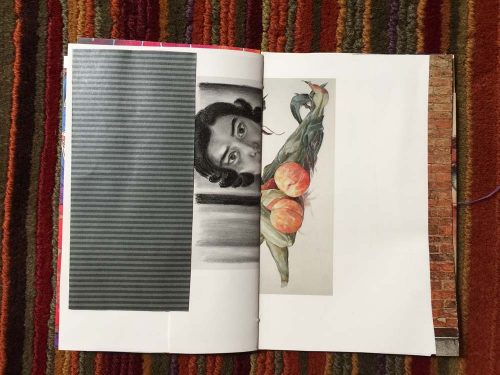 Bottom of the left page is another portion of one of my iPad drawings. Love seeing it in here. You can click on the images for a larger view.

You know me and eyeballs. I love the one on the left.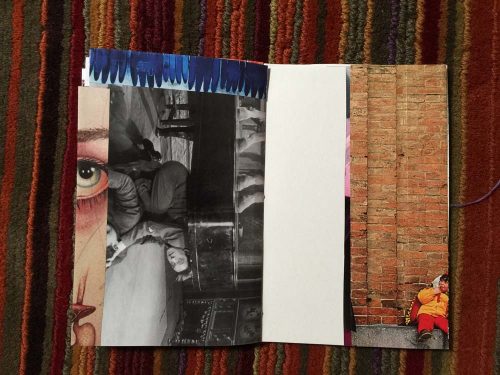 And, last page with the pocket inside the back cover. Maybe I'll use them for the post-its until I have time to transfer the information to the pages, by hand.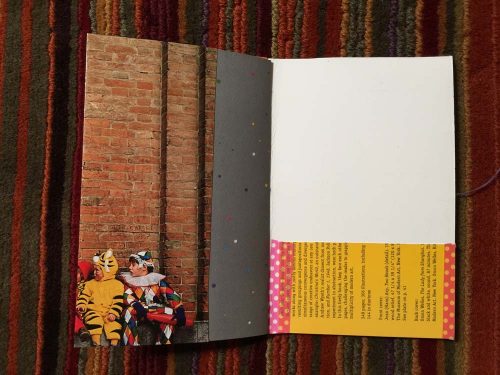 Below is the front of the cover. I don't like handmade copper clasp but it was nearby. Maybe I'll put a bead there and have the strings wrap around it. I feel like it needs some kind of closure thought because as you collage on the pages the book gets thicker and doesn't stay closed well.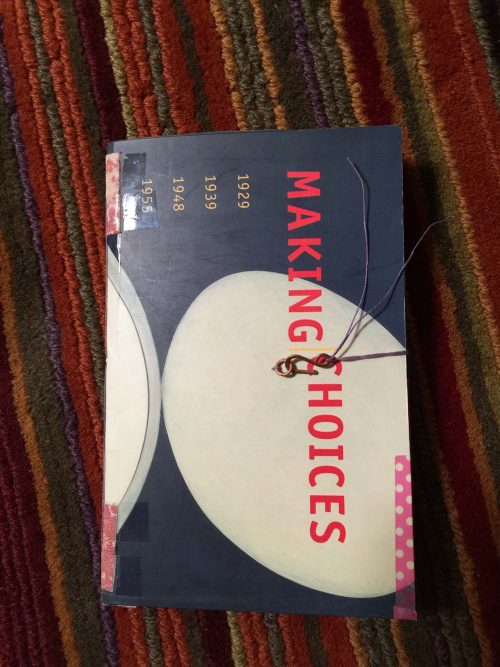 So, there you have it. My first attempt at a junk journal. It's bound simply, through the spine, with waxed linen. I can't wait to play in it … although I might be distracted by making more to have on hand. Thanks for following the journey this far. I'll keep you updated with anything I find particularly interesting as I work in it.