Check out these bad boys: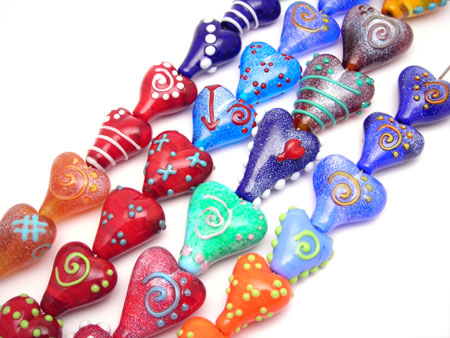 They're more poofy and true to the heart form than they look laying flat like this.
I've been thinking about my goals for 2008 very seriously after having slacked off in 2007. (I even wrote a series about setting goals if you're interested). I didn't go through this process for 2007 and really felt the impact. But as I write here, for my bead/creative endeavors, I realize how much I did accomplish.
Things I always wanted to do but never could quite achieve:
1. Brightly colored beads
2. Face bead
3. Flowers
4. Hearts
4. Simple jewlery that I actually like, and sells.
Looking back, I've achieved all of those this year even though the flowers aren't your typical glass encased floral bead, my flower disks satisfy that urge. I'm not really as interested in the florals as the other three items on the list…I have just always wanted to do them because it seems like everyone else can.
Look back on your past year and recognize what have you accomplished. We get so busy that we forget to look back and see what we've done. We're so focused on what needs to be done next that we forget to take time to be good to ourselves, to compliment ourselves, to really say, "I do a lot and I've accomplished a lot! I'm pretty damn good." So sit back, think about the past year and give yourself a big pat on the back.
So, as I look to 2008 and am forming my business-oriented goals, I wonder where I want to go creatively. I know I can't map that out but one thing I do want to think about is more mixed media pieces that are more comprehensive. Not just lines of beads to sell to the people who make things out of them but things that can stand alone as a full piece of art. To be marketed elsewhere, and at shows other than bead shows. I have some cool ideas and they are definitely on my list.
I'm seeing 2008 as an 'art for art's sake year' since I've developed enough of a bead customer base. Thanks to all of you! You're supporting the arts this year.
It's time, once again, to step out and find new cheese.  Anyone want a bite? What are you going to do new and different in 2008?