I was excited to get back to the micro mosaic faces and now, having made them off and on for a couple of years I've become more proficient and am having some additional successes with color combos.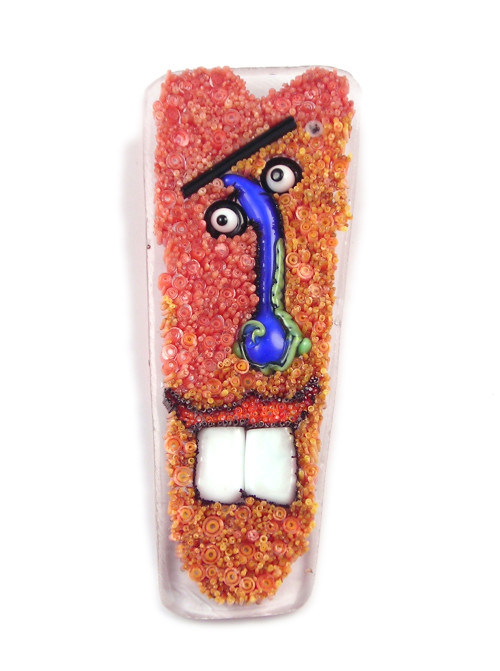 Because I am pretty comfortable with the technique and process I was able to work more freeform. That is, a strong foundation allows an artist to play (with more success). I didn't have a plan like I usually do and started out making all of the more solid face components. Then I chose some color, and created a new one with a new scheme, which opened the door to even more options.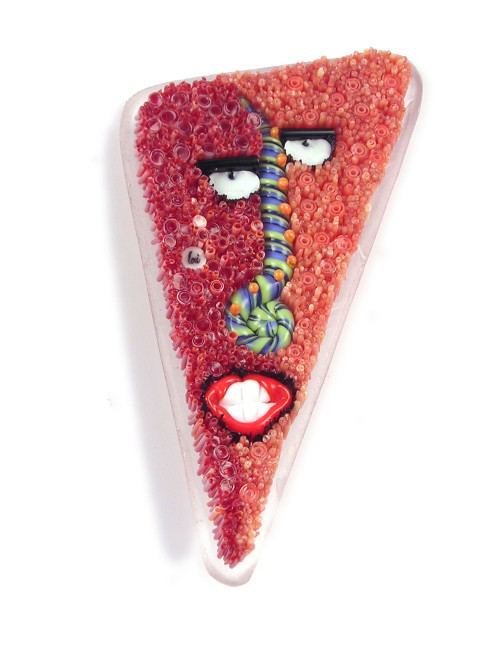 Something interesting happened along the way. Because there was no plan or template I started to let the glass chips do what they wanted. I started building areas of color and forming swirls and curves as I went. It was like I was painting with pixels, one at a time. Before I knew it, I had flames. I was not intending flames and I sure wasn't intending a matching goatee. All I was thinking was that I wanted to match the orange in the nose and put some outline around the eyes. Working this way was really enjoyable. Like doodling but with minuscule little dots of glass. I felt like a painter; and I cannot paint, or draw.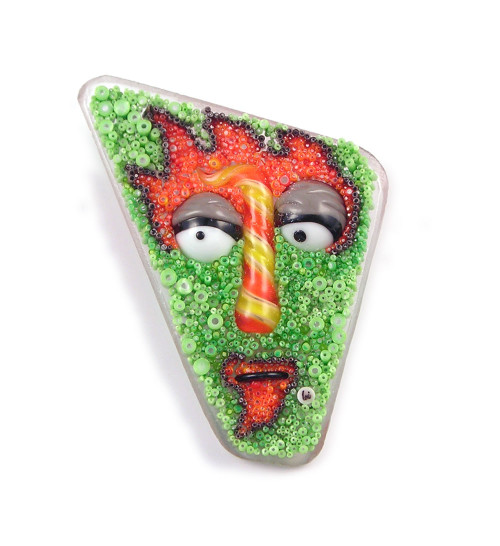 The other ones, below, kind of happened that way too. I do wish that the color of the orange-ish/yellow section would have stayed the cool color that it was before it was fused in the kiln but, I still got a new color for my library and I will try again sometime with another combo to recreate the brighter yellow contrasted with the maroonish sangre color. It's all good. (see that? I'm trying to appreciate what I've done rather than being so hard on myself).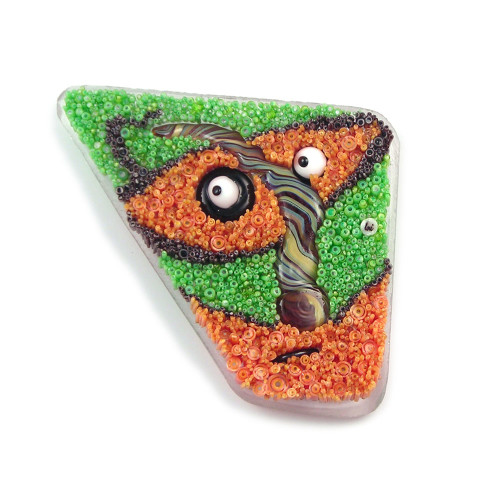 I got really fast at making these because I eliminated some of the fine black outlining. But looking at the piece below you can see that that outlining does make a a big difference in the overall effect and feel of the piece. The fine black (as opposed to the thicker black lines above) are made with stringer about the thickness of a hair, if even that. It can get a little time consuming and tedious to say the least. I see that's a necessary evil though. You might not realize it but the mouth murrini and eyes below are outlined in that black. If they weren't they'd just kind of blend in. Gotta do it.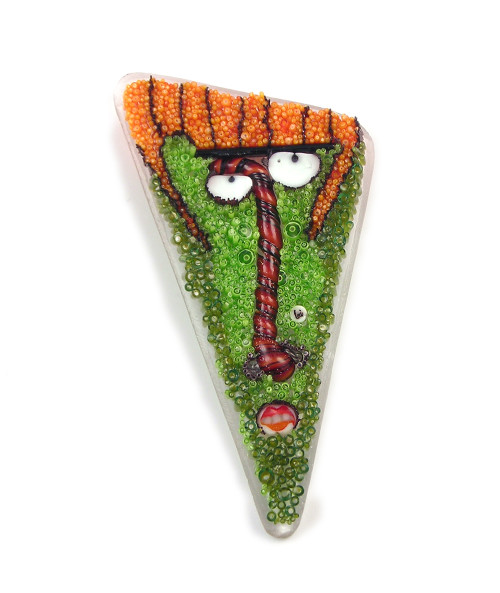 Next step is designing a frame (in cardboard) to pass onto my silver-fabricating buddy, Chris Mode, for the next steps. I'm kind of itching to try the silver again but I'm not sure. We'll see if I can do it in cardboard first!