If you're a facebook friend and caught some recent posts and pictures you might already know that I've picked the jewelers torch up once again. I went to the Bead & Button show early this year to hang out with my buddy Chris Mode and to 'help' her in one of the the metal smithing classes she was teaching. I learned how to make a ring from a strip of metal sheet and how to set a bezel and stone. This was the result: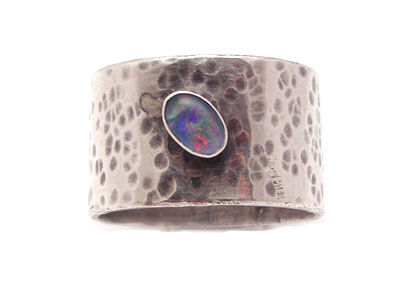 After that, we had some time to hang around in her 100 year old, red brick school house and she showed me how she solders bezels. This is the second time that someone has shown me and for some reason, this time it clicked. Maybe it is because I've tried on my own since the first time and failed. Maybe it's because Chris has the magic touch. I don't know. But I'm glad. Here is one of the first pieces I made upon returning home: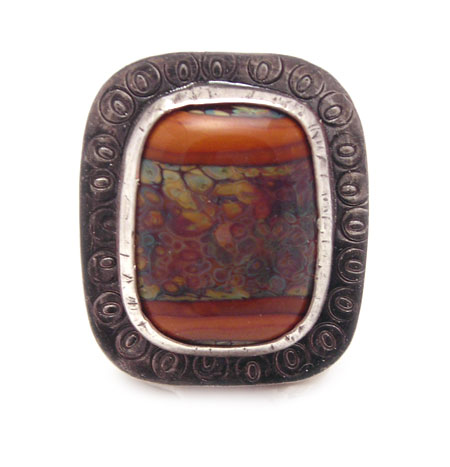 It's a pendant that has a cab set into it that was once a glass bead. So, along with the silver work in this piece, there was a bead made in a torch and then fused in a kiln. If you think about it, that's lots of hours that went into this piece.
Below is a rind with the same process. The difference is the organic shape of the bezel plate. I am surprised to find that I love sawing and filing and shaping. Chris loves soldering. I tell you, if we would be more near each other, we could really get some stuff done! in collaboration! I think I might just like to take that up with her.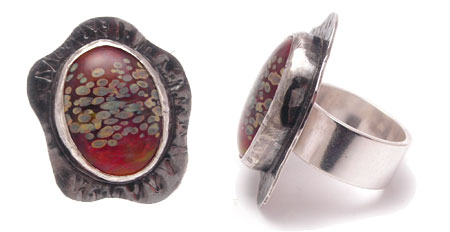 And last, for this post, some links I'm working on. All made with beads that I've fused flat. My desire is to have lots of these and to link them together in bracelets and necklaces or to be used as clasps. I'm still working on honing my bezel setting technique and also the loop portion of these. I'm not fully happy with them yet but in a way I do like the primitive look of the metal. I think they would be interesting if they were antiqued also…exploiting the roughness of the silver from working it too much.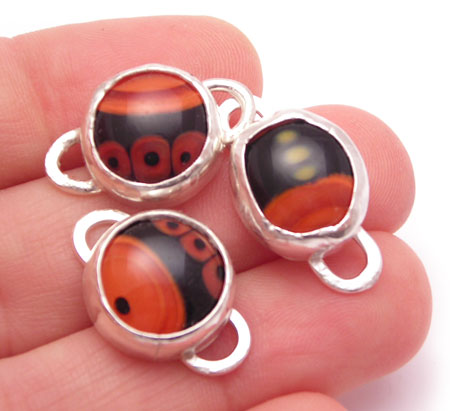 So, there you have it. My second (third?) foray into silver work. Now, I must head up to the UPS store to pick up my order from Rio with all of my new silver and a couple new tools that have been sitting and waiting for me while I was away on vacation. Next, I will receive the necessary die and crucibles that I ordered so that I can pour my own silver ingots and make my own bezel strips and wire sheet. That should be interesting!