I haven't written about my own beads lately and haven't posted anything for sale because I've been in production mode.  You know, the time of year when I disappear because I'm making tons of stuff for upcoming shows?  I'm feeling out of the flow this year jewelry design-wise.  Not that that ever comes easily to me.  Truthfully, I dread it.  But I love that it sells.  Very well.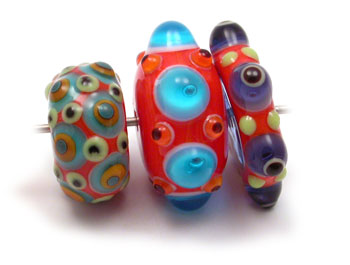 Jewelry is one area where I have not found my voice.  I just don't do it enough to have developed a unique style.  Usually around this time of year I come up with a simple line and then reproduce it with lots of bead variations based on beads that I've made and sold throughout the year. If there is a market for the beads, chances are there is a market for them made into some kind of jewelry, is my reasoning.
But this year my newest line of beads are the pods and I just don't see how they go into jewelry.  The big ones are easy…wire wrapped and on a cord.  That's getting a little boring to me but it's the easiest way for me to showcase them.  They're gorgeous. The thing is, they're too clunky for bracelets and smaller just doesn't translate.  They're too expensive to put into a simple lariat.
So I've gone back to the basics. More basic than I've ever done.  And it scares me.  Usually when I go into a show, like I said, I already know what sells because I've tested the market online.  This time, I'm going in blind.  New line, first time showing at my only jewelry show of the year.  And a big show.  If I make the wrong stuff and people don't like the look this year, there goes at least 25% of my year's income.  But then again, if they like it more than the usual stuff…
I don't know what's with me.  Usually I make what I love and let it sell itself at shows.  This year, what I love just doesn't translate into jewlery.  That is, in my narrow scope of jewelry making.  Maybe I'll just sell lots of beads.  I have been building that local base.
The show is in about three weeks and I have a bunch of tiny disk beads and larger, more complicated disk beads just waiting to be made into pieces…pieces I already see in my head and have had in my sketch book for some time yet I'm paralyzed.  I can't start because I'm obsessing over whether they'll sell.  I know that once I get going it will be fast work.  Remember, I said they were easy pieces.  And then there's that thing that I need to make my new displays.
ARRRRGH!  Someone just smack me into jewelry making mode.   Or come here and do it for me.  I have all the stuff.