Not too long ago I was in a bad place. 
I'd taken time off from being a working artist to raise my children and to work on some volunteer opportunities. While I was away the whole world seemed to have changed on me! 
I tried to get back into daily art-making and it wasn't as easy as it should have been. I did not take that well and spiraled into a creative block that lasted three years.
The good news is that I got unstuck and I'm feeling more creative than I ever have.
Whew.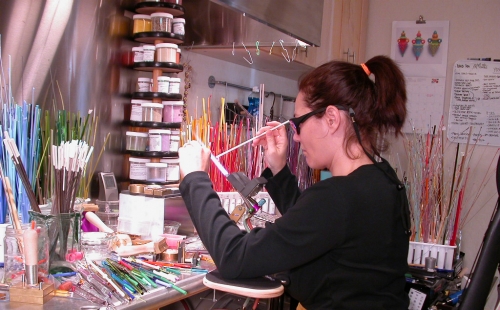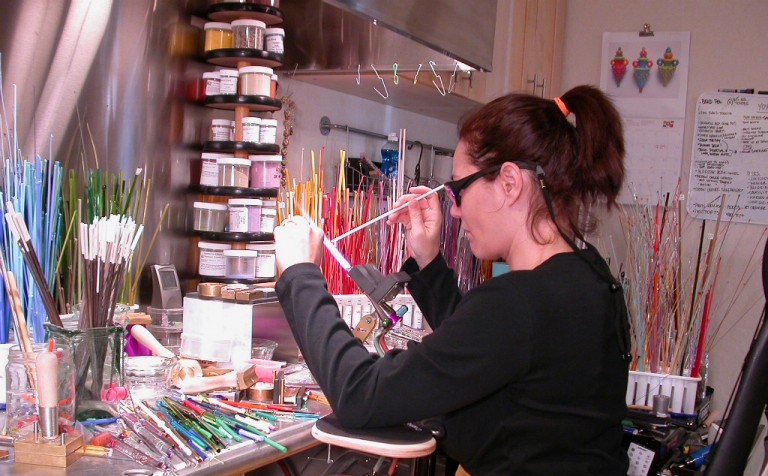 It took me a long time to find the magic potion that got me out of that slump, but once I found it, my transformation happened fast. I'd like to show you how to overcome creative block, or stuckness, too.
But first, let me tell you all it all happened.
How things went downhill...
Glass beadmaking was my jam! From 2000 to 2008, everything I made sold as soon as I put it up for sale. I traveled the country selling at shows, and making great friends at conventions.
What could possibly go wrong?
Anyone remember that U.S. housing bubble thing?
Yeah.
Countless people lost homes, incomes, and their businesses, and pricey glass beads were not exactly a high priority anymore.
Just like me, the jewelry makers and stores who had previously bought my beads were struggling, which led to people using less expensive materials like copper and resin, and more imported components. Customers adjusted their buying habits and just like that, glass beads were not on top of jewerly makers' shopping lists anymore.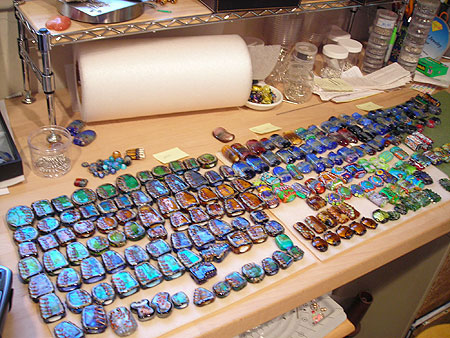 I, and a lot of my friends held on, thinking we could weather it, and figure it out. We'd done it before when we'd come up against cheap imports flooding the market, we could do it again.
Alas, it wasn't meant to be, at least not for me. I'd grown weary of trying to climb that hill and I was fortunate enough that I was able to make the decision to take some time off to raise my kids and focus on some volunteer projects.
While it wasn't ideally what I wanted to do I also knew that my kids would only be young once, and work would always be there.
Or so I thought.
I had gone into a creative funk...
Time went by and as my kids entered high school I was ready to get back at it. I lit up my torch and got to work. I signed up for my studio tour show again, and spiffed my web site back up. There was only one thing missing…
My creative juju had disappeared.
I could still make great stuff because my skills hadn't gone anywhere but I just didn't have the new ideas like I used to. And it kept going on this way. The longer I couldn't snap out of my stuckness, the more concerned I became.
In an effort to find my muse I tried distracting myself from being blocked with different types of media. Maybe it was time to reinvent myself again?
I tried different kinds arts to snap me out of it.
2012/2013 – I tried fused glass micro-mosaics: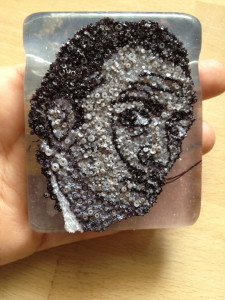 2014 – I tried glass murrine making.
2015 – I tried writing fiction, and published 12 coloring books for adults.
While all of those creative endeavors kept my mental health afloat, I was beginning to think that something was seriously wrong with me. It all felt like just going through the motions. I had no zest, or motivation, or drive. 
Nothing was rekindling my spark.
THEN, 
2016 – Someone posted on facebook about an art journaling workshop.
I had no idea what that was but it looked bright and colorful, and I needed a getaway. So, I signed up and went without expectation. I just needed a break.
Art journaling turned it all around...
That long weekend, when I found art journaling, things started to change. It's funny because I have always been afraid of painting, drawing, and basically any type of what I call "flat art."
It had always bothered me that I couldn't draw realistically, and I envied those with great looking sketchbooks. And here I was, with the things that always scared me on the verge of giving me one of the biggest gifts of my life.
When I got home I was inspired, but I also knew that workshop inspiration fades. I made a commitment to art journal a little bit every day for 30 days.
I found that the more I worked in my art journals the easier it was to access my creativity. At the end of the 30 days I noticed that other areas of my life, and my attitude, had started to shift, too.
I was excited about my day job of jewelry-making again and I'd started to grow a following of customers at a rapid pace.
The Jumble Journal Method...
I continued working in my journals and eventually realized that I hadn't been stuck at all for a long while. I'd been putting out unique collection after collection of my silver jewelry, and had so many ideas that I couldn't wait to get to. And I was really having fun with my flat art creations and the journals I'd been making.
I started to pay attention to what I was doing and how I was doing it and that's when I started to take note of what I now call my Jumble Journal Method.
It's a way of creating art journals where the techniques address all kinds of blocks that we, as creative-maker-artist-crafters come up against, and the more you do it, the freer you feel. 
I'd love to show you how you can overcome your own blocks, and how to stay in that creative frame of mind. You can get my free Jumble Journal Roadmap below that shows you the exact steps I took to go from stuck to inspired.