Would you believe that I stopped trying to keep up with all of the new colors at least three years ago?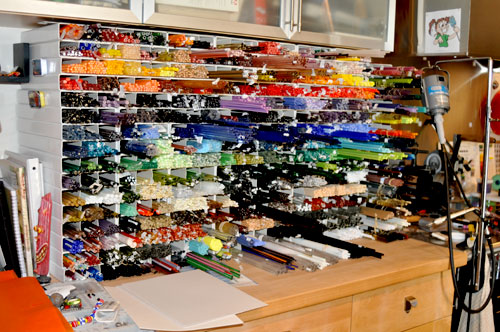 There was a time when, if you were a 104 coe person, that it might have been realistic to have every color.  Yes, there would be a large investment to get a pound of all of the standard colors to start with but then, every once in a while Mike Frantz would hit us up with some new coral, or a new shade of periwinkle or rubino oro here and there.  Some of these would be 'odd lots' which means they wouldn't be made again.  Sea foam green, streaky pink, etc.  You might see these on ebay and going for really high prices.  People said, "I'll never pay $100 for a pound of glass!"  We see how that's gone, with the new silver glasses, huh?
So, a few years ago when all of these colors of coral were coming out I had to admit defeat.  Seven shades of coral?  And they really weren't coral anymore…they were orange.  I don't know if the old, real coral even exists in inventory anymore.  I wasn't a punchy orange kind of color gal.  Yet.  We started to see Vetrofond odd lots in all kinds of swirly colors, Creation is Messy glass came on the scene, the Lauscha Color club bringing on a new color every month, ASK104, even some Reichenbach, I think, and now some glass from India too.  And I thought the frit varieties were overwhelming.
Then came Double Helix with their special silver glass that seemed to mimick some boro effects.  People would sit by their computers waiting for the update ready to pounce.  They'd be sold out in minutes.  Then R4 came along too.
I was just ready to type "what next?" and the truth is, I don't want to know!  I am so out of the loop that it's overwhelming to even think about being on top of it all.  But I sure am grateful that if I ever get the urge to make something that requires a certain color, I have lots of options to peruse.
How about you?  Have you kept up?