Yes, there is, isn't there? I might not always tell you but there is always a story. This is a sample of the experiment beads I did yesterday. Now, they're not experimental as if I were playing around…there was definitely a plan and a design. But, they were experimental in that I don't usually do jewel tones. My Monets have been about as close as I get with to that.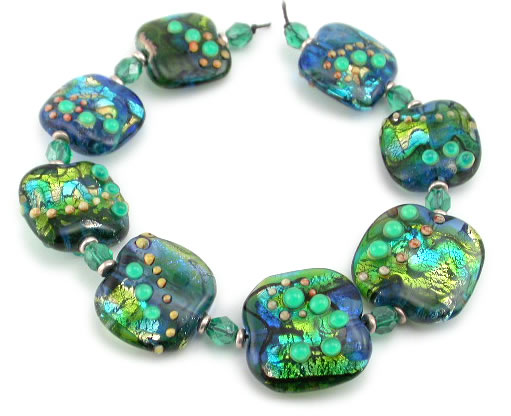 So anyway, on to the experiment. It's more of a sales experiment.  You see, as I talked about yesterday, what I like and what the majority of the people like are often two very different things. Don't get me wrong, I probably won't give up my quirky, of-the-beaten-path style any time soon but it is fun to jump out and try different things sometimes.
An interesting thing happened after I made this set too. I took out the element of the sparkly encased silver foil, threw in some dichroic glass (which I've not worked with before) and pulled out my trusty enamels and BINGO! The Bead Nerd strikes again and turns it into my own style. So, there IS a way that I can use my style with elements I never thought compatible. Pictures later!