Have you ever been artistically inspired by something and don't know what to do with it? Inspiration is a funny thing to me. To me it is a spark that ignites inside of me. It pushes me to work, excites me, compels me. But it doesn't give me clear ideas of where to go. Sometimes I wish I could get that inspired feeling and sit down and create a masterpiece in one fervent sitting. Unfortunately, I don't think it works that way.  At least, not for most of us. I think 'inspiration' can be a misleading word in what we think it is in our fantasy world. At least, for me.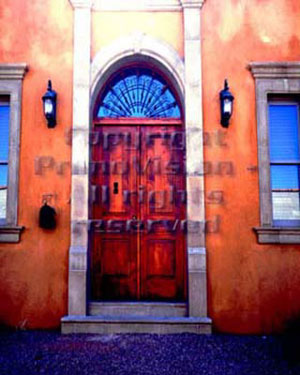 But anyway…I wrote about how I'm inspired by bright colors but don't like to work in bright colors. That is still confusing to me. These days I'm being inspired by doors. That's right. Doors. I've always loved pictures of crusty, paint-peeling southwest, mission style, Santa Fe-like doors.
This summer we were at an art show in Prescott, AZ and I got a triptych-type framed photo of three doors, photoshopped in lovely, lush colors by Bob Gertz. It's big and it hangs over my desk.
I see doors as symbolic, mysterious. What is behind them? What do they lead to? What part of our psyche do they represent? What do they say about us? What about the fantasy of doors leading to alternate realities?
So much good stuff there. But what do I do with it? Right now I'm letting it stew in my own psyche. Something will come, but I know I can't force it.