Welcome to your next opportunity to win a great eTutorial.  Today I'm happy to be reviewing Kerri Fuhr's Tapestry Scrollwork eTutorial.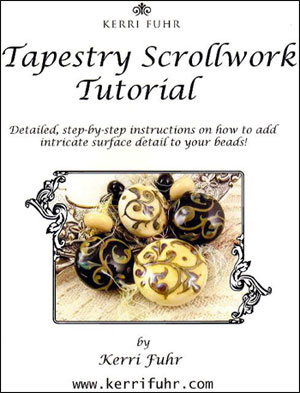 If you've ever seen Kerri's beads in person you probably remember their grace, elegance and attention to detail.  Her writing and tutorial instructions follow suit and give you that same feel.
Kerri has managed to make this intricate design look simple with her easy and informative instructions and images.  Straightforward and to the point, teaching intricate stringer work and raking techniques, Kerri takes into consideration that beginners will be using this tutorial as well.
As you read the directions for scrolling stringer application and dot placement you feel like you're right there with Kerri, watching over her shoulder. You can feel the methodical pace at which she works, not rushing and making sure every aspect is just as she wants it.  You feel the specialness of the pieces she creates and how much she cares about them.  I know it's a strange thing to say but it was soothing to read this tutorial.  It must have been Kerri's gentleness coming through.
The images are clear and you get a great view of what is going on in each step.  I would have to say that this is one of the best representations of stringer control in print that I've seen.  Kerri is very clear about explaining the 'sweet spot' at the flame when applying stringer…something that is difficult to describe and also giving suggestions to alternatives if you're not ready to jump in and use very fine guage stringer.  She's thought of it all.
Kerri also gives permission for you to make as many beads as you want in this style however, encourages you explore further on your own.  Two thumbs up from this reviewer!
Now the fun part.  Your chance to win your own copy.  Just leave a comment after this post and you will be entered to win.  The contest will run from right now until midnight (AZ, USA time) on June 13th.  Be sure to come back and check if you're the lucky winner and I'll get with you to find out where you want Kerri to email your tutorial.
And, if you just can't wait to see if you're the winner, surf on over to Kerri's Etsy store and buy your own copy.  Seventeen pages, $18.  Well worth it.