Of course I liked the minimal display idea but I was a bit nervous as to how it would really translate in others' minds.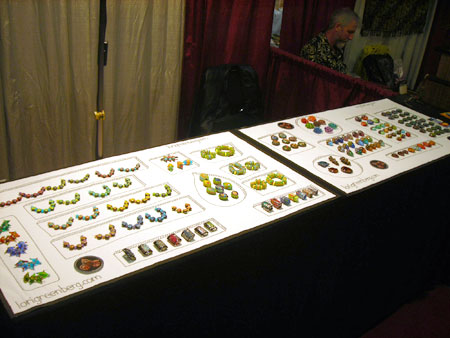 Any 'together' person would have worked one up and done a dry run before actually debuting it.  But not me.  Last Minute Lori strikes again.  I got to the show, put down my canvas, laid out my beads and then drew the virtual display trays around them.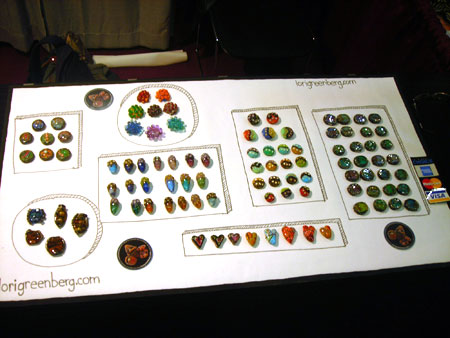 Of course, images don't capture the 'depth' of this idea.  Those are hand drawn 'trays' in the best doodly, cross hatch fashion that I could do with a fat Sharpie and painting canvas.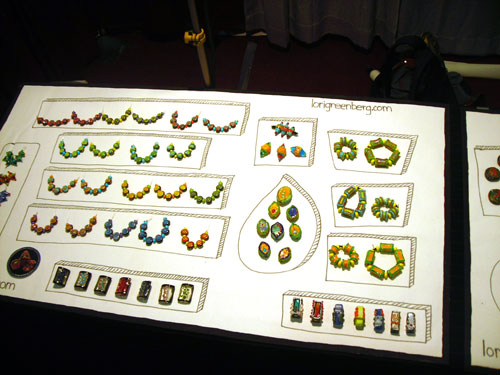 I had to fight myself all weekend from the urge to doodle on them.  While it would have looked cool, I was already getting enough attention for the displays.  You learn that you don't want your display taking away from the work.  It's funny how something so minimalist can stand out so much.

I also received comments about how the flat, light colored surface was less distracting than trays and bowls and other displays.  I took a gamble and did something totally out of the ordinary.  I was nervous but it paid off.  I've already brainstormed ideas with my helper (my mom) for my next display that will go along with this and I can't wait to try that too!
It will be interesting to see if anyone else embraces this concept.