For over a year now I've been working hard to incorporate color into my beads and really stretching myself in that regard. While I think I've given it a noble effort and many of you like the bright colors, it still doesn't feel natural to me.
It's like if you're not a morning person and someone tells you that you need to just 'get in the habit' and it will happen naturally. It just doesn't work that way.  I have learned a lot from the exercise and recommend pushing yourself for a duration of time (not just a couple tries) to do something you don't feel comfortable with.
Through my color studies though I've found other ways to work with color. See the last beads I've posted. Splashes of color but still subtle enough. That use of color appeals to my more earthy sensibilities. So that is the direction I'm heading.
But! All is not lost on the bright colors! I've found a way to express myself that way. Through painting. Not just any painting, and not masterpieces. For a long time I've been kicking around thew idea of painting 'things'. I've wanted to go to Goodwill and garage sales and get uncommon items to paint. I'm finally acting on it and below is the process of my first project:  A painted tabletop that will hang on the wall.
It started out with this: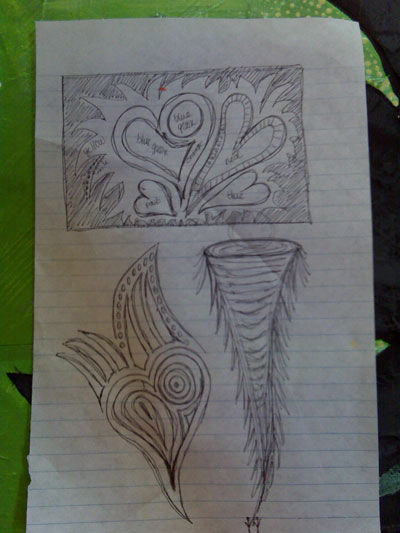 That's how I sketch. In lined notebooks, not fancy sketch books, and with ball point pen. I've been trying to become a little more artist-ly and have since purchase a sketch book and some pencils without erasers on them. Not that that matters.
The concept and inspiration came from the vacation home we bought this summer. While I'm not big on hearts, I've been feeling drawn to the shape in a stylistic way (read: not cutesy). And what better way to decorate our new love nest than with something like hearts?  There are four hearts in the design and each one represents a family member.
The other inspiration is the idea of painting 'things'. Reclaimed objects that would normally be tossed out. For this project I chose an old table. In fact, it is one of the original tables from my first spare-bedroom studio:
We don't have room for another table but this piece isn't for that anyway. I want to paint things and use them as wall art. So, the tabletop part will be painted and then the legs sawed off to create a wall piece with dimension. The legs will be their own painted and decorated arrangement to be hung on the wall somewhere and so will the drawer.
Next, to impose my own style on this wall-table. I know I'm not a painter and I don't pretend to be. So, I knew that I needed to put another twist on this piece. I decided to give it more depth and texture by covering it with a modeling compound and carving the design into it before painting.  Sorry, I didn't take a picture of that.  Next, I painted the first layer: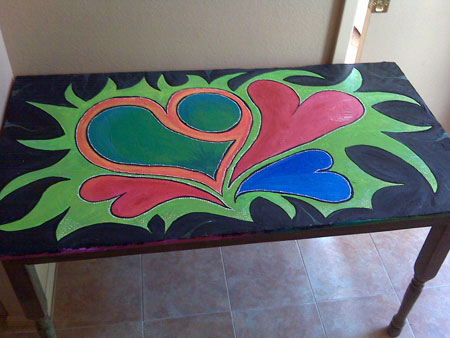 Oh, I might also mention that, where my natural tendency is to seek out all the information on something that I can, and to even buy a book or two or take a class, I'm consciously not doing that with this new medium.  I'm forcing myself to be self-taught because I believe greater creativity can come from that…I won't have the style of someone else hanging over me or distracting me, or 'rules' to contend with
It still looks a little flat but there is more to come that will combat that. I added white dots for some outlining of the shapes and started dotting the corners of the green flames with a lighter yellow-green for more movement: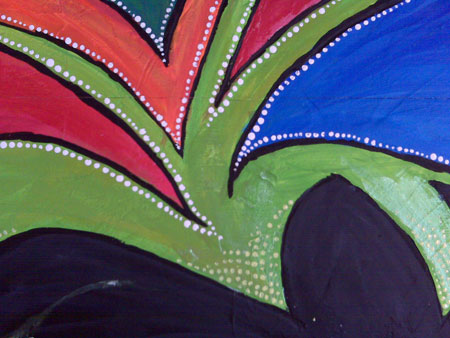 This is where I am right now with it. I will continue to do the dotting thing in strategic places in darker colors for more movement and hopefully to give a 'pulsing' feel due to the colors being next to each other (like in impressionist works).
I also am thinking of adding some other graphical components…line drawn doodles and symbols. Then I will seal it with a coat of glossy finish to make it more 'juicy'. Finally, epoxy on beads and other embellishments for more dimension and sparkle.
If all goes well, I'd like to add these types of works to my repertoire and sell objects at art shows.  But for now, it's a hobby that allows me to create without pressure of marketing.