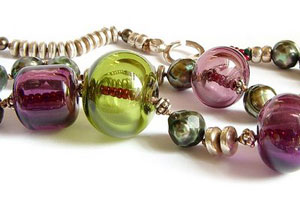 Did you see?  Did you see?  Jill Symons started a glass bead blog!  I mosey-ed over to her site today and in the back of my head I was thinking…I wish this blog was somewhere that I could subscribe to it in my reader.  I kept reading on and saw that now I can!
Sorry.  I get a little excited about things like that.
If you know Jill's beads you know that they are elegance and perfection.
Here's a little secret…
Way back when I was just starting out, Jill was the one who inspired my photos on a white background.  The way I remember it, she was the only one doing the pure white background thing.  Don't jump on me…I know that she's not the first one to do that and not the only one.  But she is the one that I remember being pretty prominent with that style.  I worked up my courage to email her and ask her what the heck she used for her background and she was nice enough to tell me how simple it was with just white paper.
I don't know what she does not but her photos are impeccable, don't you think?