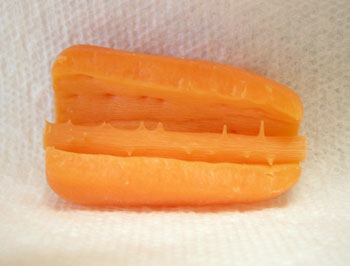 Come on down, Ms. Karen Hardy.
I thought the inside of a carrot was going to be a genius idea that would keep you guessing for at least a few days. Karen guessed it in record time and the rest of you knew what it was too.  I'm not sure what that says about me.
Anyway, here is the full picture.  Email me your address Karen!
I will be posting another challenge this afternoon, with another glass bead prize so be sure to check it out and put in your best guess.
I'm trying to be a bit more challenging and hope I'm not going overboard…we'll see.
Thanks for playing everyone…this is too much fun!