I have a handwritten note taped to my office door alerting those passing by to be quiet when I'm in meditation. I thought it would be fun to make a more decorative sign that I could flip over when not in use so I pulled out the paints and collage elements and thought that would be a good project to acquaint me with the materials.
At this age in my life I hear the voices in my head telling me that I'll never master a new medium, and they are discouraging. I know they are lying. While I crave the idea of mastering something I also know that I have to start somewhere. I fight back with the voices telling them that it's not about mastery, or being good at something. It's about having fun and indulging in something that is enjoyable to me.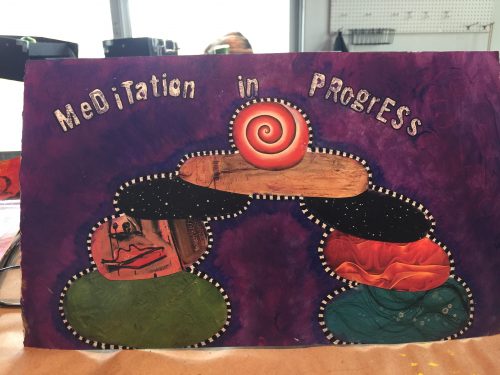 So, I sat down and I started. I have to keep reminding myself that it takes time, and layers, to get to an end product that I will like. As I pasted and painted I don't see an end result but I keep going. It's like life. You keep adding experiences along the way. If you keep trying to see the end result you miss what is happening in the moment. You are also spending your time trying to control things into a very narrow focus. If you do that, you don't let yourself to see what could happen along the way. You let your brain tell you where to go instead of experiencing maybe something better that you're not being open to.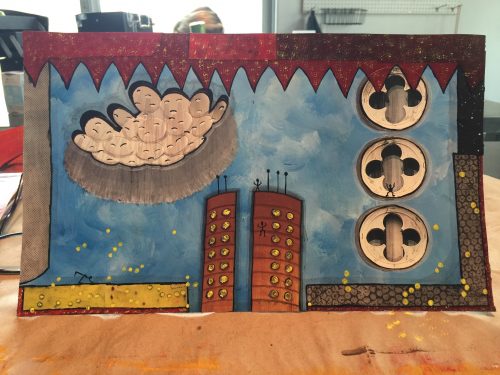 That all sounds pretty nebulous, but it resonates inside me. Where I am right now is a place of exploration. Of letting go of control. Following my heart rather than trying to limit and force things. Seeing what is there to come out. As with the paintings, they're works in progress, as is  life. It might, probably, turn out to be something I would have never dreamt of or expected if I can just let it evolve naturally. I feel like I've dipped my toe in, and while it can be scary to think about plunging in fully, It's exciting too.
It's hard to let go of old habits but like I've heard, it's just one decision away. Time to let go of old stories. Maybe putting them on the pages will release them.