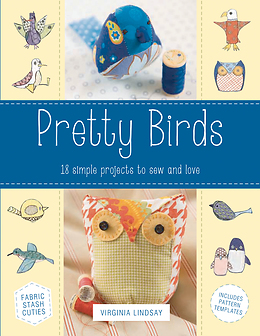 I've been spreading myself nice and thin lately. I guess it's just that time in the cycle for me. The good news is, it's all good stuff…not like I usually do, over-committing to other people. No, this includes lots of craft stuff. So, when asked if I was interested to review a copy of Virginia Lindsay's Pretty Birds, of course I said, YES! Eighteen simple projects? Sign me up!
My first thoughts were that I could do these little projects with my crafty daughter. We've had fun in the past making felt plushies. Then I thought, oh no, we just made her get rid of a lot of her stuffed animals to make room in her clutter-crafty bedroom. We don't need more stuff!
I was very excited when I started reading to see that every project has a page titled "Other Ideas to Try" that tells you how to make your little birdy functional! Bingo. Some of the suggestions are decorative, like a mobile or refrigerator magnet, but they also include something that can make your bird sing, er, work for you. Think, computer charger caddy, napkin ring, car air freshener, etc.
What cute gift ideas! Attach it to the outside of a present and voila! Personal touch that shows I care. Flipping through the pages I had a growing desire to give more gifts just because.
As for the actual mechanics of the book, the directions are simple to follow and you don't need a sewing machine. I have a machine that I got a couple years ago but it's still in the box. I like that I can bring out the hand-sewing supplies and get down to business. The font is easy to read and very welcoming. The way the cover folds back easily makes it easy to use while doing the project. In this day of digital books, this one, with it's matte pages is easy on the eyes and just feels good in your hands.
These little bird projects have sparked so many ideas. When my grandmother passed away, my cousin had all of her pjs and favorite robes made into pillows and fabric bookmarks for all of us grandkids. I've heard of people having quilts made in the same manner. I think these birds would be perfect for that kind of project too since each piece only needs scrap pieces of fabric.
Thanks, Running Press, for sending this book my way. We are going to have lots of fun with these projects and I'll be back to show y'all!
——
Win a bird fabric kit and a copy of this book at:
To see other reviews of this book, please visit:
25 You Go Girl
2/26 Erica B. DIY Style
2/27 CraftSanity
2/28 Recycled Crafts
3/1 Sew Mama Sew
3/2 Lorelei's Blog
3/3 FaveCrafts
3/4 S is for Sewing
3/5 Lori Greenberg
3/10 Sweet KM
3/11 Boy, Oh Boy, Oh Boy Crafts
3/12 Buzzmills
3/13 Girl Like the Sea
3/15 Cut Out + Keep