After a few days back at the torch I'm finding that beads are taking a lot longer to make than they have in the past. I don't know if this is because I've spent so much time with the mosaics and I've learned patience, that the technique requires it or that I'm just slower.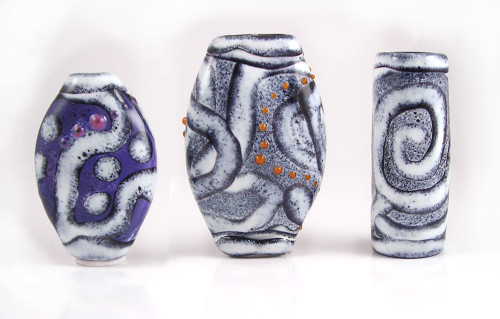 I tried a few different things and the beads above, while the technique and illusion is somewhat interesting, bore me in design. I know that some people love black and white but in this particular case, it does nothing for me. So, scrap that and back to 'basics'. Or, at least, basics of what I started with…the idea to revisit the enameled pillar beads.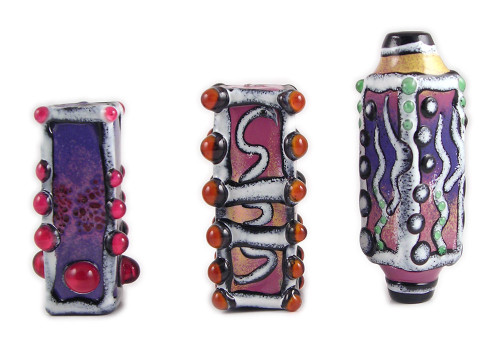 Much better in the color department and I remembered that one thing I liked about these beads was decorating corners and edges. The one on the right is an attempt to make the beads more 'wearable'. Not that these aren't wearable, I just think that when it comes to adornment and glass beads, many people do not know what to do with boxy, non-traditional bead shapes. While the 'boxed bicone' shape is interesting, I still like the boxy shape better.
Which led me back into the dilemma of trying to stay out of the heads of buyers and to stay in my own head. What do I want to make? What makes ME happy? I like these. I like them more now that I see them photographed here than I did when I took them out of the kiln.
They're nice and bulky too, which I like and another thing that throws people off. But, oh well. If I like it, someone else will like it. It just might be harder to find those people. You know who you are. The largest bead shown above is 2.5″.
More in the kiln and off to make more today. Tucson, here I come.