blah blah blah skip over part about how life is busy blah blah blah
It has been Tucson inventory brainstorming time for a while and now it's time to start getting the inventory made. Further creative dilemmas as I would like to be making the mosaics but Whole Bead Show in Tucson is a BEAD show. It would be great to say hell with it, I'm making what I want and people will like it and buy it. BUT. It is a BEAD show. That's a bit magical thinking to expect to show up at a show where you sell wholesale beads and think that I'd be successful just showing the mosaics. (although there are other products that sell well…$250+ glass mosaics haven't been in that category, yet) So, I try to get my mind back into the bead realm…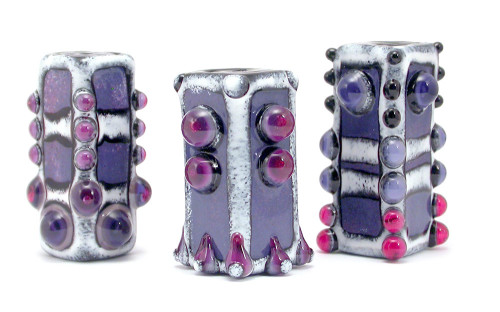 In an effort to streamline my life I have started cleaning things up, including my computer files. While moving and deleting I came across the photo of these old pillar beads. I really liked these. They were fun to make and I like the style.  The larger view (click the file) makes me happy. It was a day when the camera lighting was in my favor.
So, I'm thinking of sitting down and revisiting these. I haven't used enamel as a major design element in a while. Heck, I haven't used my torch for beads in a while and, after giving a bulk of my last show inventory to Beads of Courage last month, I need to get to it.
So, I'm digging the enameled pillars, almost like traffic lights and I think I'll make some more and dream up some new groovy color combinations. Would you believe that these are from 2006? I wonder what seven years of experience will bring to these now?
There you go. Oh. and I will have mosaics in Tucson if you want to see them or even add to your collection. I love picking up new collectors!