Two blog posts in two days. What, you wonder, is happening over here? Well, kids back in school and an hour earlier start for the 11yo this year means I'm back to days to myself with an extra hour to boot. Although I forecasted yesterday where I am heading, I will not be so bold to do that with my blog because I have found that it is the one thing that gives when other things come up. But, for now, let's enjoy it.
Yesterday I spouted off about grand plans, big vision. Today I show you what happens between those times of getting down to it. Mindless work for those days when it just isn't clicking, the brain isn't working and I just don't feel like working at that level in the studio.
I'm talking spacer beads. I have a "build your own pen" station at my November studio show and it is always a hit. Some bread and butter cash-ola that helps me be able to do the haughtier 'art' pieces. I love me some spacer beads, even if I wouldn't know what to do with them myself. I am considering an all, tiny spacer 'chain' for micro mosaic necklaces.
But anyway…more brainless stuff that I love to do is color mixing. You've seen my efforts throughout the year whether it be from my polymer clay days, bracelet beads or now the mosaics. Check out what I experienced last month at the Gathering: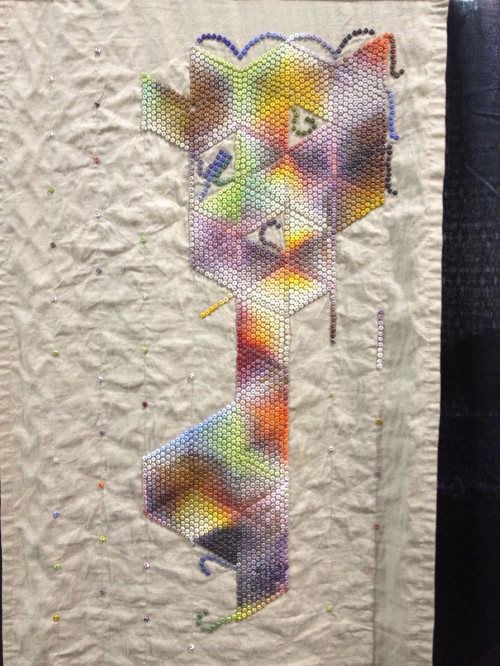 Dietmar Kuehlmorgen's color studies. This huge tapestry is a humongous undertaking that involves pulling stringer of color, painstakingly weighing portions and scientifically-based mixing different amounts. It blows my mind. I love how he has the small beads sewn to a tapestry because it can be displayed beautifully (while being functional) as well as rolled up and carried.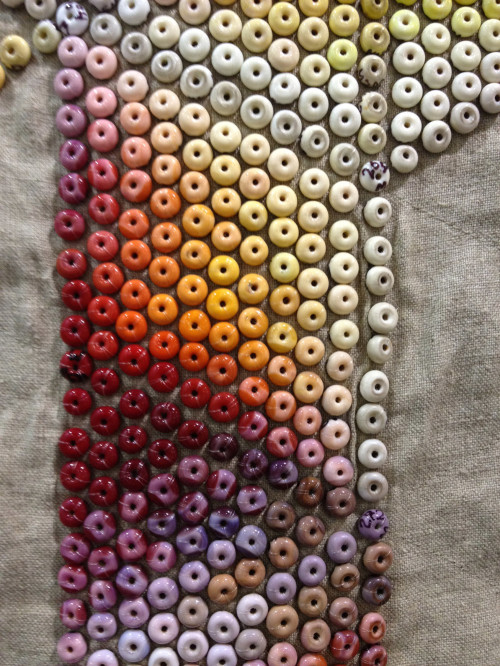 While I would never purport that I could do this comprehensively, I sure as heck have it in the back of my head as something that would be fun to do for those 'brainless' times. Yes, there is planning, but once you sit down to mix the color it's just sitting at the torch and twisting some rods.
I do love color mixing and have a nice little library of my own however, it's not this pretty! Mine is stringers taped to notebook pages. Dietmar rocks.