I'm pulling out another oldie from 2006. A color scheme that I used to like to work with: opal yellow glass with ruby and denim frit and transparent amethyst.
I've changed it up a bit, into a more simple design, and I'm finally getting to a project I've been wanting to do for a while. I live in Arizona and it seems that nothing I do can hide me from the sun in my own home. That sounds terrible, I know, to those of you with more overcast and cloudy days than sunny. But for me, it can get to be just as monotonous as your experience.
You see, I come from the midwest and I miss basements. We don't have many of those here. I miss feeling cocooned underground sometimes or cooped up inside on a cloudy/rainy/snowy/miserable day where you have no choice but to snuggle up and watch tv, eat soup and read a book. It's just not the same when the sun is shining. You always feel like you should be doing something and not wasting it.
Our living space has sky lights and some windows without coverings. Even the thick plantation shutters cannot block out all of the sun during the day. Every room must have some type of window or outlet, according to building code so I can't get a dark room during the day! And it looks pretty yucky to cover skylights with black paint, don't you think?
So one of my projects is to at least dim the sun that comes through some of these spaces using these: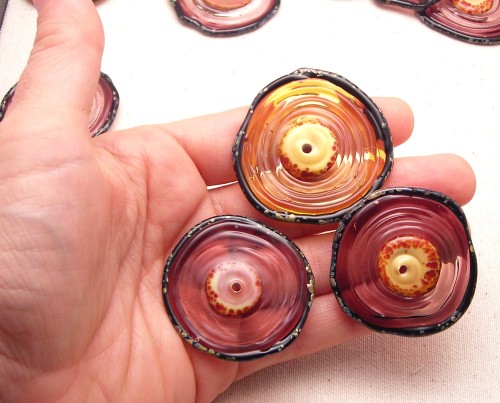 Lots of these. I ordered some plexiglass and I've been making lots and lots of these large disks in various shades of amber, amethyst and olive glass. My plan is to rivet, or headpin wire-wrap them onto the plexiglass through holes I will drill. The panels which will be 12″ x 18″ will fit directly into the vertical row of windows to the side of my front door.
That is a lot of disks to make and I do hope I can keep up my stamina to complete the project. At the least, I will get one window done and it will look nifty. Luckily the disks are simple and organic.  I'm viewing the end product as the work of art rather than the individual bead. That is a new concept and it's kind of liberating. I am not usually able to see an end product in my mind but with this project, I do.
I can see lots of applications with this concept. Such as a hinged panel on my bathroom counter to hide cosmetics I leave out. Or one on my counter to shield the big tray of vitamins that rest there. Or maybe just a wall hanging.
One thing I'm afraid of though, that always disappoints me, is that I have all of these great ideas but then I get bored with the process of making them.  ::sigh:: So, I'm trying to enjoy where I am, working as fast as I can while I have the motivation for the project and am already contemplating playing tricks on my mind when it starts to move to the next thing before I finish this one.
My other idea is to make larger disks and make a panel for the skylight too…like the Chihuly Ceiling at the Bellagio. That could be fun.