I use the word scheme endearingly. Meaning that with the economy being so sluggish and the world of selling online having changed so much since I was fully in the game, I am contemplating different creative ideas to spark interest. When sales slow, the first reaction can be to lower prices. My prices have always been pretty reasonable because I like designers to be able to buy and resell in their creations. However, I have also always considered that there has to be some mark-up from wholesale for the shops that want to buy and resell, without my prices underselling them. I don't know why I find it so confusing.
One of the things I'm contemplating again is eBay auction. Ninety-nine cent or $9.99 starting prices. The $.99 thing makes me nervous but also can be fun. Another thing I am contemplating is selling full on wholesale at the Tucson Whole Bead Show in February. If you have a business license, no minimums and full wholesale pricing.
And then, I think, all of that sounds like huge incentives to buy from me but really, maybe the market just isn't there anymore. Or maybe, Tucson just ain't happenin' for glass beads anymore. Not on the scale that it used to be. That is pretty obvious…but I still have fun and still turn a profit so I haven't gone to total doom and gloom mode.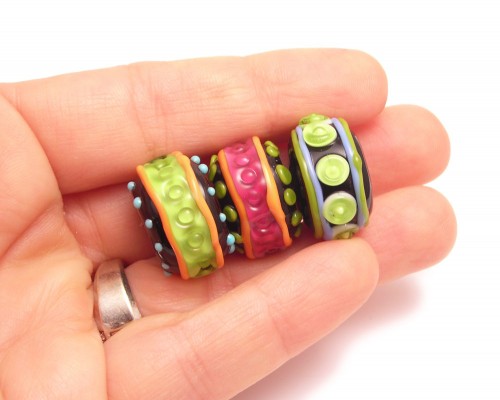 That is also causing me to re-think some other things. What do I REALLY need/want to make on a piece? Can I cut back my hourly wage and still be happy with myself? I know that I can because I'm pretty efficient. What is my intention in selling my work? Since I don't need to sell in order to feed my family at this time, do I want to just make art for me, or do I want to sell it at lower prices just to move it? Do I want to create pieces that take more time to create and sell them for higher prices in shops and galleries?
I just don't know.  So right now I'm going where my heart leads me. If it tells me to work on a piece that takes a week, that is what I sit down to do that day…hoping that the rest of the week will lead me in that direction so I can finish it! If it tells me to sit down and try something new, that is what I'm doing. If it tells me to clean my office from top to bottom and hang twinkle lights, that's where you will find me.
I am trying to not think about selling.