Remember my cute cloud beads that were so difficult for me?  I started that process back in March 2009 after mulling it over for six months.
Well, I finally threw together that necklace that I've been dreaming about for a while.  Cloudy Skies on Fourth of July on Etsy right now.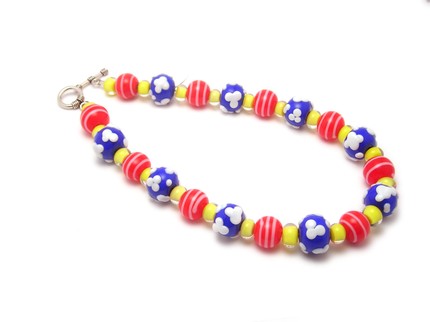 I love, love, love, the choker size/style necklace a lot, although I don't know if this is really a 'choker'.  It doesn't reside up on your neck but more around the base of your neck.  Is there a style name for that?  I also like the feel of an all glass piece up around my neck.  While I love the look of all those new funky metal designs out there these days (brass, copper, bronze, etc.) I have this thing about lesser metals against my skin.  That's probably a throw back from my youth when I'd get copper rings and bracelets as vacation souvenirs and I would turn green.
So – all glass it is these days.  You've heard the saying where people love something so much they just want to roll around in it?  Ok.  Maybe that's just me.  But, this is the equivalent of loving glass beads so much I want to just roll around in a big pile of them.  Wearing an all glass 'choker' keeps my dearest inanimate love as close to me as can be.  I'd probably do the same with my Apple products if I could.