I thought I would have more combinations but alas, my last day of torching before Bead & Button did not happen.  So let's go with the ones I do have.
I contrasted the darker orange from before with the bright yellow.  Funny how this same yellow does not look lime-y with the orange and the orange does not look as red in this set as it did some of the others that had cooler colors.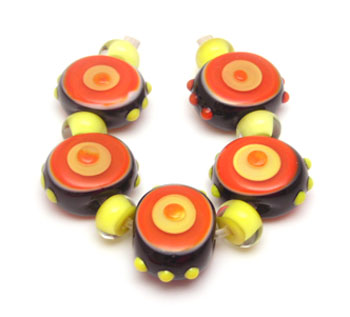 I'm also seeing how this would be good info in a form that is easier to reference because, without seeing the two different sets next to each other you wouldn't even know that it's the same orange and looks very different.  The reverse: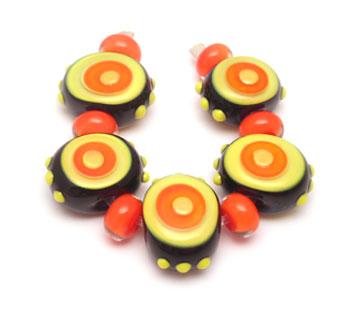 Another winner.  I'm thinking too that these would be cool beads to do in school colors.  I mean, school colors are usually flat and nasty but with the colors that can be achieved by layering different glass I think there could be some really cool homecoming and alumni jewelry that would look very nice while tailgaiting.  So, I may just have to work on some cream and crimson beads…no, I KNOW I will have to do that.  Below is that yellow from above with the lighter orange: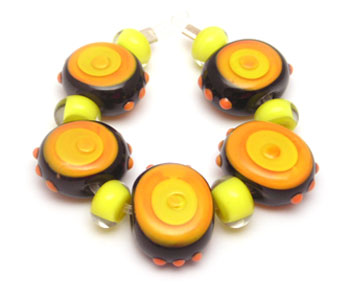 It's a little more subtle of a contrast and close to monochromatic, I think.  See?  I told you I didn't pay close enough attention in beginning art.  Here's the reverse: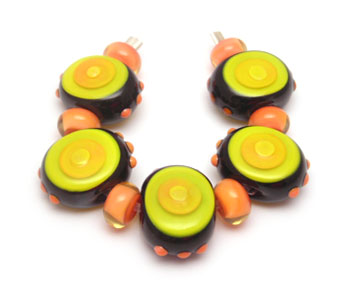 I hope some of you can stop by at Bead & Button because when you see these in real life you will be blown away.  I guarantee it.  I have all of these beads hanging by my work surface and I can't tell you how many times while I'm working I think, "I just want to roll around in them."  They're just luscious.  They average in size of 12mm x 17mm x 9 mm thick.
Here's the last combo I was able to do:
It's an interesting blend and look at those spacers!  Big deal, right?  No.  They glow.  Not literally but they look like there is a light inside.  That is because each of those little 5mm x 8mm spacers have THREE layers of glass.  The opaque core and two layers of transparent glass strategically layered to give the effect that you're looking down into them.  Whenever I make these I make a few extra.  For one, because I never know when I'll drop one when stringing, just for it to go disappearing into some nook or cranny.  Two, you can always use extra spacers and three, because I want to accumulate a whole pile and make some cool chokers.
Here's the reverse of the above:
I like how the combination of glass that I used for the purple (three layers) gives the illusion of a pink-ness when next to the orange. This is the same purple recipe I've used in the others where it has looked more blue.  Again, fascinating stuff.  So, that's that for now.  I can't believe I have to stop this adventure here.  I haven't even touched teal, blue, red, or ANY of the earth tones or ivory.  Not to mention all of the cool new glass colors that have been sitting in my stash forgotten.  Now I know what to do with them….pull them out one by one and give them a good going over in this fashion.