It's been a while but I've finally listed some new beads on my web site.  Included are the new Venus beads.  Well, they're not really new because I did something along these lines last year.  But these are better and more colorful.  I worked out some of the design issues.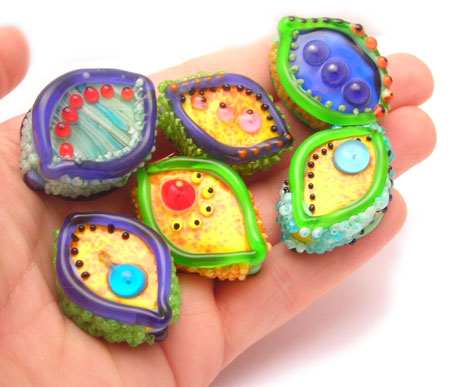 Below are the ones I did a year ago.  Can you see the evolution or do they look the same to you?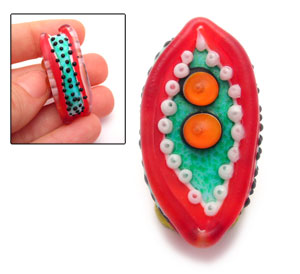 These were just throwing out colors and design elements as I worked.  The newer ones were more planned out color-wise.  They also took into account the different colors that were being layered over each other.  Colors were chosen that really gave depth to the glass around the borders and the intricate dots on the sides.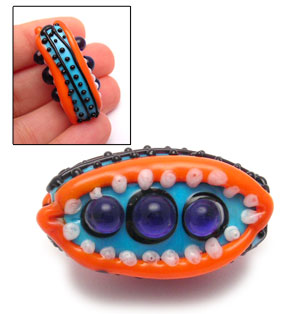 I guarantee that when you see the new ones that you will want to touch them. And you can.  Come see me at Bead & Button in June.  Or Art Unraveled for one day in August.  Maybe I'll bring some to the Gathering too.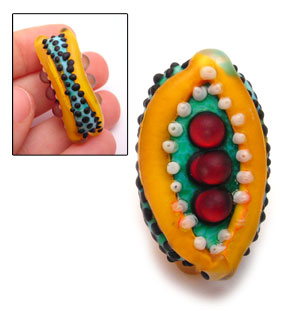 They're definitely different but I love them.  Especially the new ones.  The texture is great.  Now I need to come up with some small accent beads so I can make some jewelry for myself…and maybe you can make some for yourself too.  Be sure to check them all out at lorigreenberg.com.  Oh, and if you notice that some of the new beads are already sold, that's because if you're on my newsletter mailing list you get first notice of new beads and sales.  Why not sign up while you're over there…you will never get more than one email a week. Unless it's an emergency.