Todays review is of two tutorial ebooks by Cathy Lybarger of Aardvark Art Glass.  You probably recognize Cathy's expressive beads and now you can learn how to get the same effects in your own beads.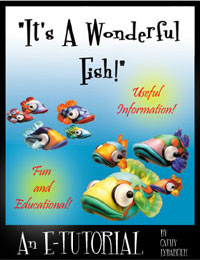 It's a Wonderful Fish is 20 pages of beautiful, clear pictures and easy-to-read instruction that teaches how to form the body of a whimsical fish and create the eyes and lips that have so much character in Cathy's pieces.  I've tried to make faces before and have come up short when trying to give them personalities.  Cathy's methods show the nuances behind the facial features of her fish that will put you well on the road to creating your own characters beyond fish!
Cathy says that she doesn't think that her fish are that complex so even beginners can follow the instructions.
Her other tutorial is for her Screaming Cactus bead.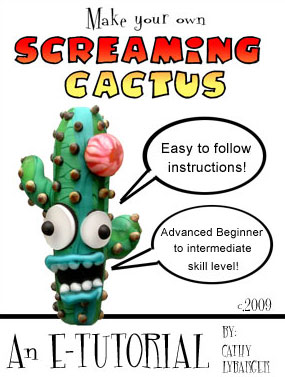 This tutorial is a little shorter, but the price is a little lower too and it's another great resource for learning to make charicature type beads with exaggerated whimsical features that really do give the effect of the faces actually saying something to the viewer.  Cathy offers the beginner version of the Screaming Cactus (the barrel cactus) as well as a more advanced version (the saguaro cactus with arms) so all levels of beadmaker will be happy with this tutorial.
You will learn about layering colors and encased stringer and a little secret about how to achieve those great teeth!
Cathy gives you a little insight as to how she came about her beads that appear to scream.  She also includes a "cheat sheet" at the end of the tutorial that is a pictorial guide to the tutorial so that once you read it, you can keep the cheat sheet by your torch as you work through the steps without having to flip through the pages as you go.
Both tutorials are an easy, fun, read and you will be sure to pick up tips for whimsical sculpting in glass no matter what experience level you are.  Would you like to win your own copy of one of these tutorials?  Cathy is giving away two copies of her ebooks and all you have to do is comment here and on May 4th (two weeks from today) I will randomly choose a winner.  Each winner can choose which ebook they would like and Cathy will zip it off to them.
So come on, leave your comment!  Even if you already own the tutorials, why not enter and surprise a friend who doesn't yet have it!  Do you already have pictures of your own fish, cactus or characters you've come up with after using Cathy's tutorials? Shoot me a picture and I'll put them on the contest page!  No, you don't get an extra entry or anything but you'll get your picture in the gallery for the world to see.
Good luck!