I have something new for you.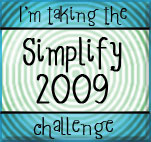 I've been slowly de-cluttering my house, my studio and my life, and does it feel good! I thought maybe some of you would like to take a challenge with me. Ten minutes a day in 2009 (maybe we'll take weekends off, or maybe we'll do more on the weekends if we feel motivated). I'll walk you through it via a Yahoo Group, one email a day and you can use the list for support if you need it.
I must be tapping into something that is inspiring others too because I'm getting lots of feedback that what I've been writing (here and on my beadnerd.com blog) is just what you've needed to hear. So, I thought I'd share my new de-clutter-back-to-basics passion too. We'll see if it works.
Let's start a movement. Tell your friends, tell your neighbors.
Check out the specifics of the Simplify in 2009 Challenge here.