I've accomplished step two of my project. I have fused the chunky glass focal beads into cabs that can now be set into silver. Here's how it went down…
Beads into the kiln. Awaiting their fate.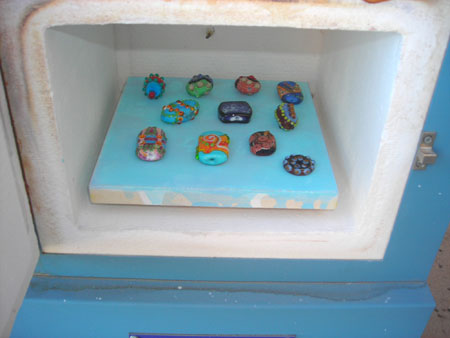 I decided to put the kiln outside for this. I don't know why. I do feel like I'm running out of space in the studio since I'm pulling out and using a bunch of tools and equipment that I've had tucked away. It's time to do a reconfiguration and pack away tools I haven't used in a while and bring the silver and fusing stuff to the fore. I love setting up new, efficient workstations. But that's another post for another time.
While my kiln is electronically controlled, it is an older one that only holds one segment of a ramping schedule. That means, every time I need to change temperature I need to do it manually. It beeps when it is done with the segment. You may have heard about babysitting your kiln? This little baby monitor came in handy.
One plus that I've found with transitioning into other media and techniques is that I can work in small spurts. When I make glass beads it takes me a while to get into the groove and I can't stop in the middle. I have small children and during school breaks, weekends or evenings, that means I really can't work. With the silver and fusing aspects coming into play, I can stop and start and squeeze little bits inbetween family time.
Here are the cabs. Shiny, fused and cool…ready to come out and be fondled for a while…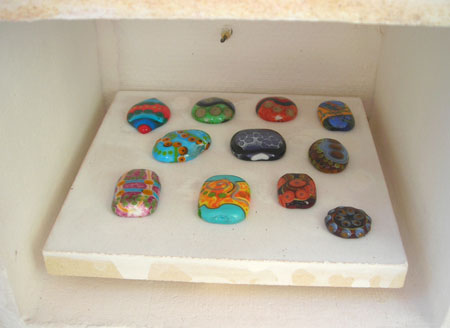 While I love glass beads, there is something absolutely mesmerizing about them when they're fused. They have the perfectly firepolished surface. When making glass beads in a torch we manipulate and work the glass as we see fit…when fused, they're allowed to take the shape that the glass really wants to be. Perfectly organic and sensual in form.
Here's an upclose: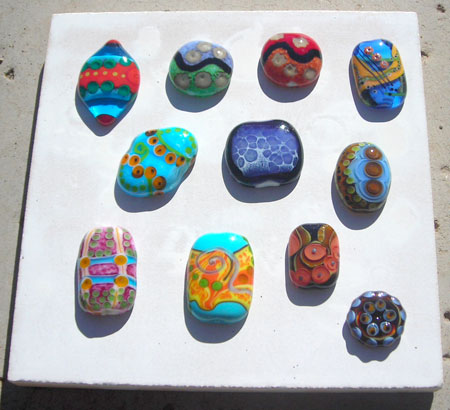 It's a little hard to see their brilliance…here's another shot…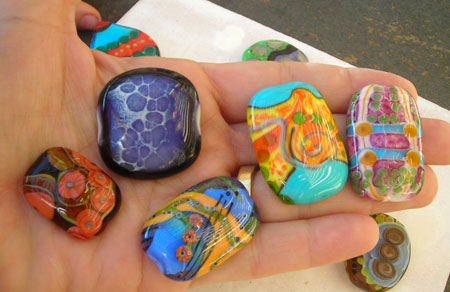 Still a little hard to get the feeling? Imagine silver around the rims of the newly fused cabs below like the glass bead set in silver that I showed before. Would these not look cool as big funky rings?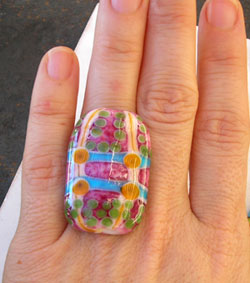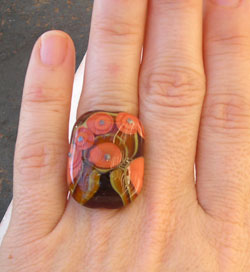 Can you see why I'm excited? Now I need to research some more equipment. Grinders, to be exact. I have more plans.