This is my next project…
This luscious group of beads is going to be fused flat, or so that they at least have flat backs, because they are going to be set in silver.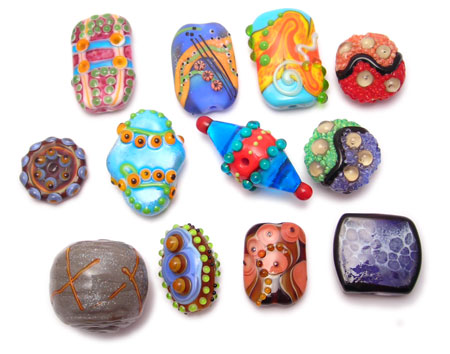 I'm a little concerned about the bottom left one since it's hollow, but has a core in it. That means there is trapped air. It could make a big explosion and get all over the kiln and everything else. I'm not sure. I guess I could crack it first.
While I don't expect my first 'line' of work that incorporates metal to be simple, silver, bezel set beads and cabs, doing this many helps me with that little thing called 'practice'. It's easier for me to practice something I already know somewhat and to get really good at it. As opposed to practicing something I really suck at and get more discouraged.
Once I get really good at this, I'll add another twist or design element. It's what I call 'bridging'. Before I know it, I'll be across the learning curve and taking off on my own. I'm funny that way. I really want to be adventurous and throw caution to the wind with art and designing but I also have another side of me that likes to nail the basics first. I'll try to find some sort of balance.