You know what they say…if you let time pass, the next time you come back to something it will click. Right?
Ok.  So I made that up.
A while back I took an interest in silver smithing.  You can see my first piece at that link.  I didn't talk much about the process because it was new.  I didn't realize that as foreign as it felt to me that first time, it would do so for the next few times too.  I never wrote about it because I wasn't committed to it and I didn't get anywhere.
So, like with anything else that isn't enjoyable, I abandoned it with intentions of coming back and really getting to know the materials in my spare time.  According to the date of that last post, I haven't had spare time since November 2005.  That would sound about right.
But lately I've been inspired to pick it up again and give it a whirl.  The prime motivator was that I wanted to make glass rings that are more advanced than the ones I made with pre-made ring bands.  I also got a newer torch, a smaller one, and it is more manageable and hooks right up to my oxygen concentrator and propane set up that I already have.  That's nice.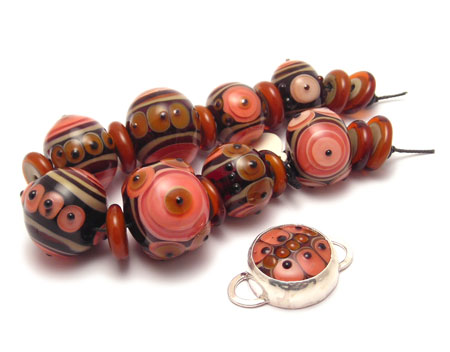 Here's my first attempt this time and the bead style that it goes with.  It's  a clasp.  Don't you hate it when your beads fall to the bottom of your wrist and you have a less than interesting clasp displaying out to the world?  This is the solution…or at least my intention.  Or maybe I'll just sell them if I get around to it.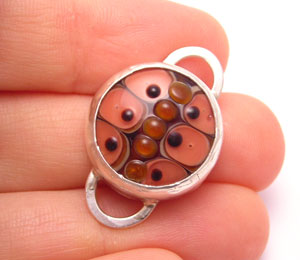 You can see the imperfections if you know what you're looking at and maybe even if you don't know what you're looking at but I'm pretty darn proud.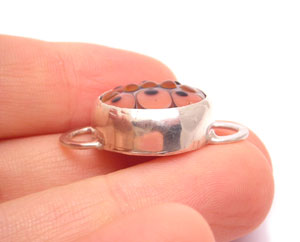 And I even liked the process this time.  I found a great youtube video series from ArtJewelry Magazine that walks you right through it.  I think having the basics helped but it showed a different way of doing it that I was originally shown and it made a world of difference.
So, there you go.  My new love.