Yesterday I talked about the rings and where I'm going with them.  I could have sworn that I wrote part two but I cannot find it anywhere!  In the meantime, this post pushed itself to the front so part two will have to wait a bit since this post feels very important to me today  and I'm working on flowing with what comes up at any given moment…and not just in creativity but life in general.
Lately I have been having this inner conflict about the 'new' work I've been creating.  It has been looking scarily like artists that I admire so I've been fighting it.  I have been telling myself:  NO!  But it hasn't been working.  It is tortuous.
So I've decided to go easy on myself.  I once had someone tell me that I didn't need 'punishment' or 'reprimand' because I do it to myself just fine.  I know what my intentions are and they are not to produce work like others.  That is good enough for me.  However, there is something going on that won't leave me alone and I have to go with it.  If I don't, and I continue to fight it, I will continue to be in turmoil.
On some level I know that if I give into it, it will dissipate and I'll be on to the next thing.  The reverse of the whole 'what you resist, persists' concept.  I am no longer resisting.  I am letting go of the struggle.  If my work needs to look like others for a few sets of beads, so be it.  It's a stepping stone.
The second link above is one example of my unintentional copy-cat beads.  Those beads led to these further experiments: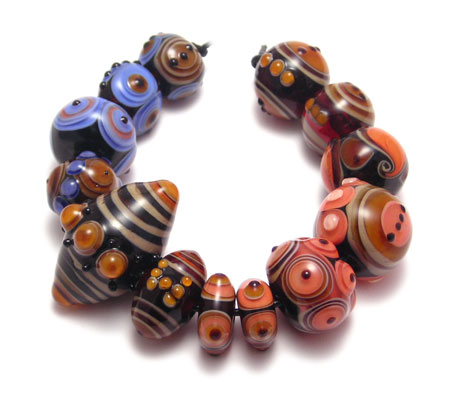 The funny thing is, I'm enjoying the process of layering these dots more than I am the actual beads.  It's relaxing.  So, that's where I am with that.  Out there in the open, admitting that it is what it is.