Can you believe it?  I have jewelry designs.  And just in the nick of time…my big jewelry show is coming up in a couple weeks.  I have been sweating it, kind of.  I mean, two weeks till show time and no jewelry?  I have some half finished pieces and some ideas kicking around in the ole melon but nothing that I could put a price tag on yet.
Except this: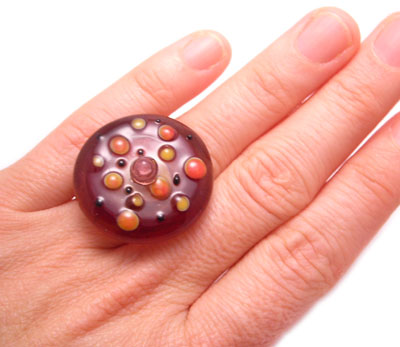 This is just a quickie picture and it doesn't look that clear, does it?  You can't see the fact that the disk bead has about 8 different colors and has a really rich pommegranate/berry watery feel to the base bead.  I'm in love with it and I never thought I'd be able to make a piece of jewelry that I'd actually want to wear.
You see, I don't wear jewelry and I'm not usually drawn to it.  A few weeks ago I splurged and bought a honkin' ring from an artist at a show because I loved the art, not because I wanted jewelry. But I am in love with that ring (I'll show pictures next time I have it around the camera) and I wear it everywhere…in my sweat pants taking the kids to school, to the grocery store, even right up until I start to do something that could potentially damage it.  Then I take it off.
But anyway, it inspired me to start wearing jewelry and to make my own.
I have lots of other colors in the kiln waiting to be assembled.   They're on sterling silver adjustable ring blanks but I'm rethinking that.  The disks are silver cored (not that that matters because it doesn't show) and then a tiny cone shaped spike that I made off the end of a mandrel is set on top of where the hole is.
What do you think?  And what pricing do you think fits?  I'd like to see if I'm on track.