I've been a busy bee behind the scenes and I've decided that since I can't keep up with blogging to extent I want to I will at least snap some quick photos with my camera phone and keep you up to date on my facebook page. Not my personal facebook page, but my official Lori Greenberg Glass Art facebook page that I've had for a few years but haven't used it. It's dusted off and ready for you to follow. I finished (almost) the other side of the Dali piece and you can click on over to see the steps.

Did I show these guys? Yes, I've been squeezing in some studio time and trying to take some pictures along the way for the time that I can sit down and blog like I mean it. I do mean it. Really. There are many thoughts that pass through my brain during the day that make me think, "I really want to blog that. I have a lot to say on this subject." And I really really do want to it. Unfortunately I am realizing that if I don't do it that day, it passes. Even if I write it down, it doesn't hold the same passion later as it did in the moment.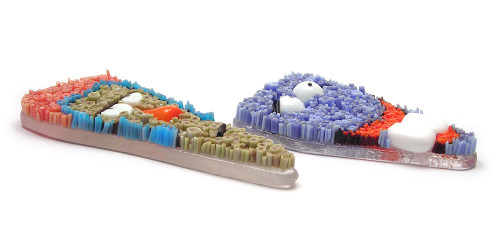 I feel kind of sad about that but I guess I'm grateful that I have passion come and go at all.
But anyway, these guys are cute and are waiting to be framed into pendants. I'm not hot on the electroforming path right now though. I've ruined a bunch of tshirts from chemical splashes and the last couple pieces proved challenging in getting the settings right. So many variables and it just seems like there is so much going on for me right now that I don't have the time to sit down and troubleshoot. So, I'm kicking around new finishing method in my head until I feel ready to move on it.
Anyway…be sure to like or friend my official Lori Greenberg Glass Art Facebook page and add it to your newsfeed. I don't know how that all works but, if you follow any pages regularly and you know how to do that, you might like the photo-rich experience I plan to provide as snapshots of my studio experience. I hope it will make up for my lack of meaningful blogging.