Here are a few pictures from the Arizona Midday experience yesterday…
First, my husband has rubbed off on me. Whenever we shoot video of the kids or anything else we do, he makes sure to get a picture of the place/name/sign/logo of where we are. You know…for atmosphere and to set the tone. The Arizona News Building Sign: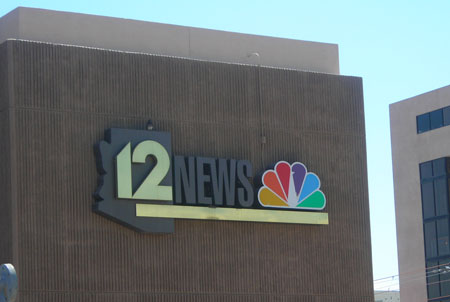 Next, me on the big day…showing the scale of the dishes that it takes to put the show out there to the Phoenix Valley. I was surprised that they were on the ground.
Here's a little peek at the studio. What an illusion TV puts on! The wall behind where I was standing was painted to look like a screen, I think and it actually sloped towards the floor. This was such a small room and they had three segments set up at the same time that they switched between for the show.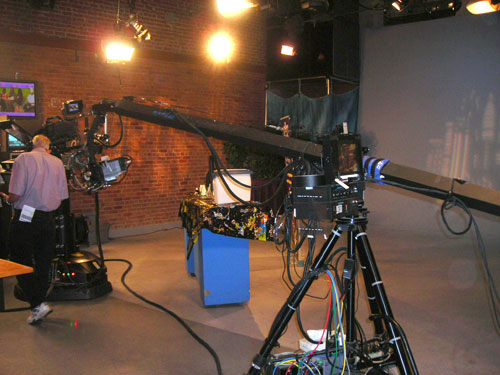 Last, a couple pictures that my husband took while I was on, from the 'green room'…that was not green and it sure wasn't glamorous. It almost felt like a holding tank. With mirrors everywhere and a couple flat panel tvs.
Here's me holding up a glass rod and mandrel. I didn't have much time to explain how lampwork works but they did cut to the video of my studio and the torch in action.
The one below is me demoing just how to simple wire wrap an art bead. My hands were shaking like crazy and I couldn't stop it and I forgot to explain what I was doing. Nice demo. My husband said it looked great…but he has to say that.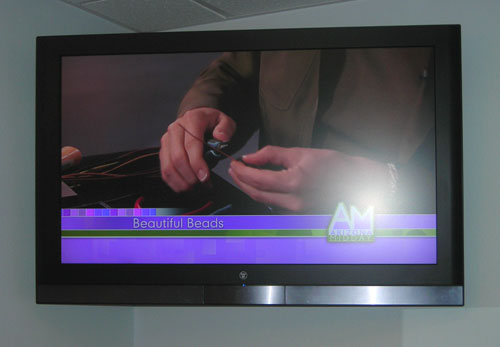 So, there you have it. At least you can see these images. I'll be ordering a video of the segment today and hope to get it on here soon. Thanks for following along. It was fun.
Oh, and thanks to Interweave Press, who asked me to do this spot to promote the Phoenix BeadExpo this coming weekend!