I've been obsessed with spacer beads.  This has been going on for some time.  I am of the belief that more of anything makes even the littlest things spectacular.  That is, make hundreds of spacer beads and show a picture of them and they look impressive…even though they're just little, simple beads that usually go unnoticed.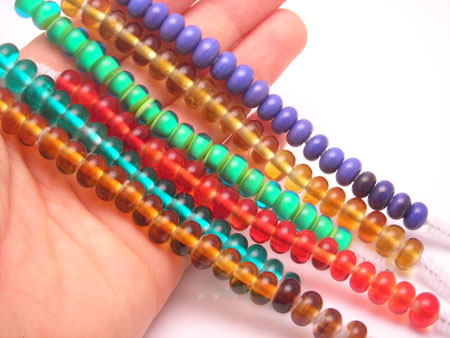 I've found that when I'm obsessed with something (that is, it won't get out of my head until I give it my full attention) it will distract and detract from everything else I try to create.  I learned that lesson a couple years ago with dot beads.  So, I'm making spacer beads.
Here is one good thing that came out of it:
I took the opportunity to do color studies…another of my favorite things.  I have these grand plans of having a reference guide that shows what every glass over every other glass looks like.  As it is, I can't even keep up with all the colors that are out there.  But some day….some….day.
See how those pink beads aren't all pink? They're layers of pink, lighter pink and clear.  The translucent ones I think are Bullseye glass.  My goal is to try and stay off the rod.  Each spacer, even though tiny will not be just one color.  They'll be layered.  Unless they're a color that striates or is more than one tone all on it's own.
Oh, and the necklace (along with others coming soon) is in my Etsy shop if you like it enough.  It feels great on and is a fine size for little girls necks too.