This isn't a bucket list because all of these things are easily do-able and not outrageous. It's kind of a to-do list of things that I think would bring me enjoyment (and if I'm happy, every one else around me is happy), not a to-do list of things that need to be done. (p.s. … who the heck qualifies their lists besides me?)
Anyway, I want to:
Make a sourdough Herman. When I was a kid my mom received a Herman from someone…also called Friendship Bread. I've never forgotten that and I think it could be fun…like adding a pet to the family. One you can nibble on.  I don't ever remember my mom making bread though.  The basic idea is that you use part of it and "feed" it to keep it growing so you always have bread dough on hand. This one is in the works as I just mixed my first starter batch.
Make a rolling herb garden on my patio.  Basil and dill for the most part.  Maybe some chives or lavender? I've been saying that I'd get a window box to transfer my basil plants into for easy access but I'm guessing that they would grow better outside. I have these huge tubs that we got for something else and while they're pretty garish, it's what I have and what I'll use.  All I need are some rolling platforms so I can move them around into and out of the sun or out of the way for my studio tour. Hopefully I can do this this weekend.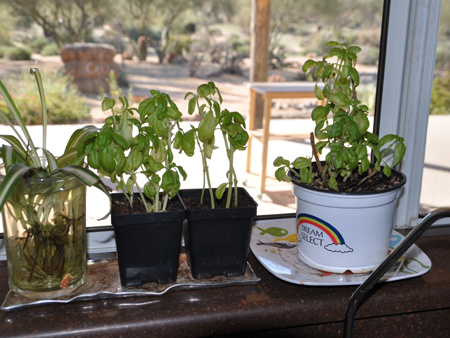 Paint the walls of this house inside and out. Or rather, have them painted. I've fantasized about doing smaller rooms myself but I'm a chicken. We looked into it months back and of course got stalled when I was to pick the colors. How can I work with color and art all day and yet be paralyzed when it comes to painting my own house? I want a "spa" room. I call it that because I want to capture the feeling you get when you're at a spa. I'm guessing that it takes more than a coat of paint to achieve that but it's a start. I want warm, dark colors and one wall in brick or stone. Indirect lighting would probably help…maybe pump in some eucalyptus scented oxygen? I wonder if I could rig up one of my extra concentrators to do that. A humidifier would probably work too.
That's probably enough for now because as I think of other things that I want to do I'm starting to get into the area of "losing weight" and "exercising". While some of that would bring me enjoyment, it does not fit on this list.