I am calling it a coloring journey because, as you might remember, I haven't considered myself a color-er, let alone a Color-ist. This past week though on a working retreat with friends I picked up the markers and tried it again. Let me just say, the medium you choose makes all the difference. So far, I had tried colored pencils and Copic markers and while I liked them, the Bic markers I used recently felt really good and I liked the even effect of the coloring. Luckily, I have a small stash in the studio so that is what I started with today.
I gave myself an hour to color, which turned in to almost two hours with little bit of time where I got side-tracked organizing my Copics, which I didn't even use. Of course, seeing all of the colors just made me realize that I need more shades. When I couldn't find a color I wanted with the Bic Mark-Its that I had on hand I reached for my paint pens.
I really like them but they're not for everyone. With them you actually lay down a layer of paint on the surface and they're opaque so they will cover the black lines if you start to go out of the lines. Also, I'm using regular printer paper and if you scratch back and forth, the wetness of the paint will start to loosen and ball up the fibers of the paper. It's best to be able to lay the color down in one stroke, or at least as few as possible.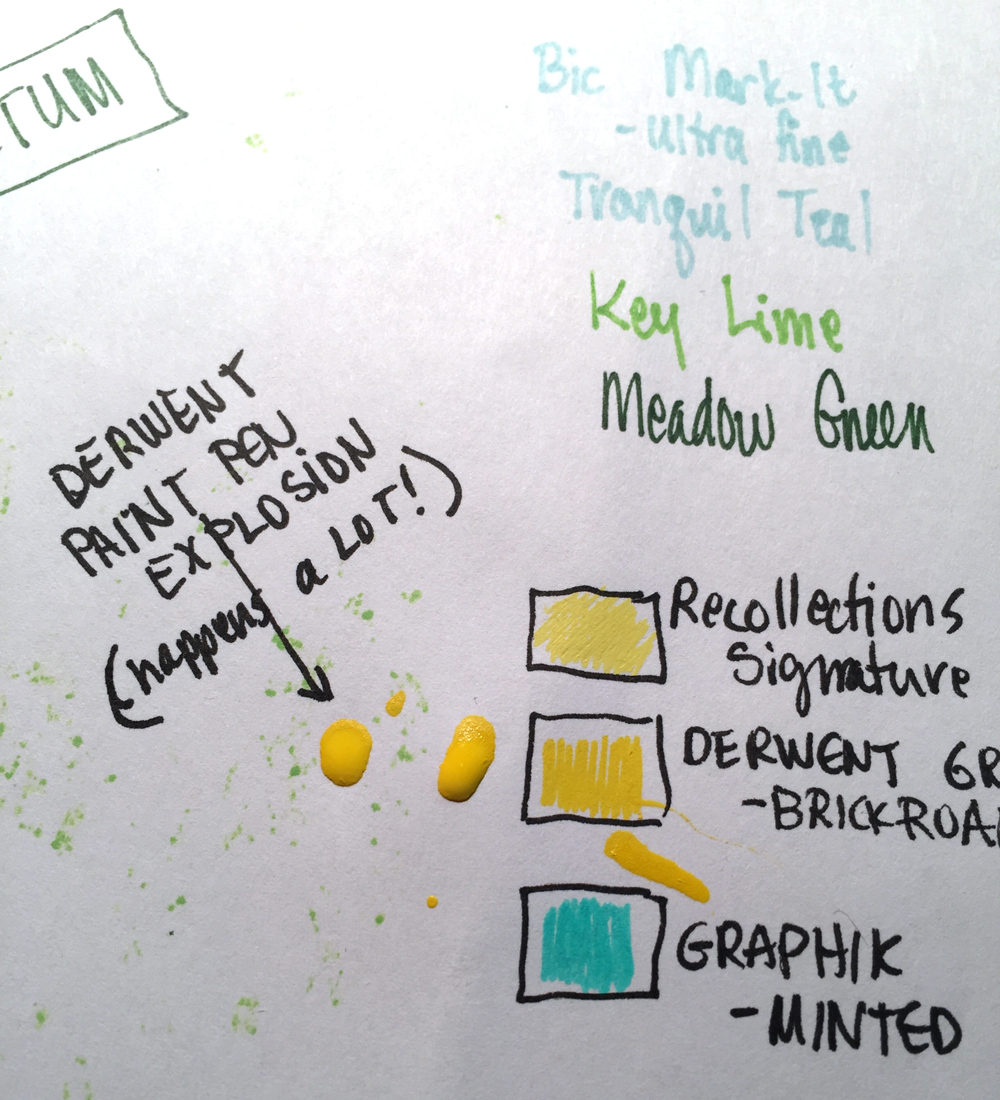 I've gotten used to paint pens in my art journals and I quite like them. They do need a few seconds to dry but they don't bleed through. As you can see above though, not all pens are created equal. One of the yellows I used was a Derwent Graphik's pen and they have a tendency to explode little blobs of paint when you least expect it. If you're careful and you watch the tip closely while you color, you can catch it in time and sop the explosion up with a paper towel. I can usually do this but it would probably drive more than a few people bonkers.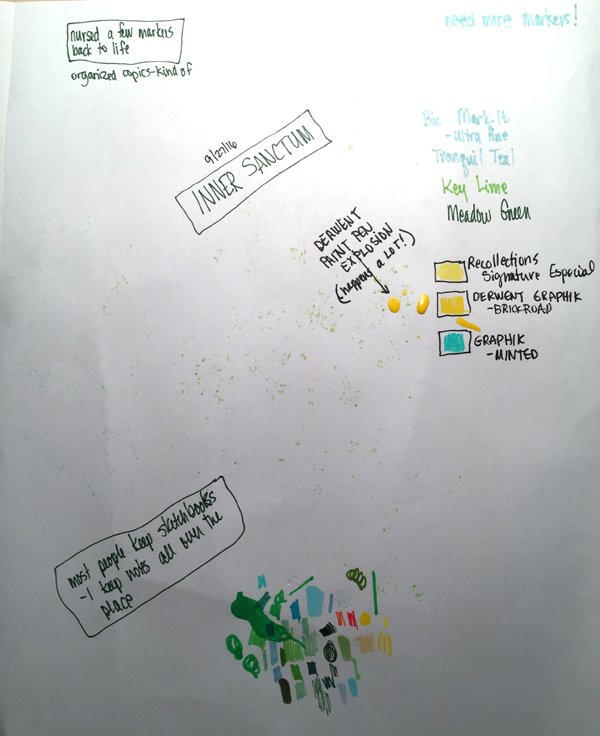 I started out taking notes on my blotter paper of the pens I was using and as usual, one thing leads to another and it started turning into my "Inner Sanctum" thoughts. Things to remember, things I want to come here and tell you about, and other randomness that runs through my brain while my mind wanders. I can't decide if this is as crazy as talking to myself, or worse.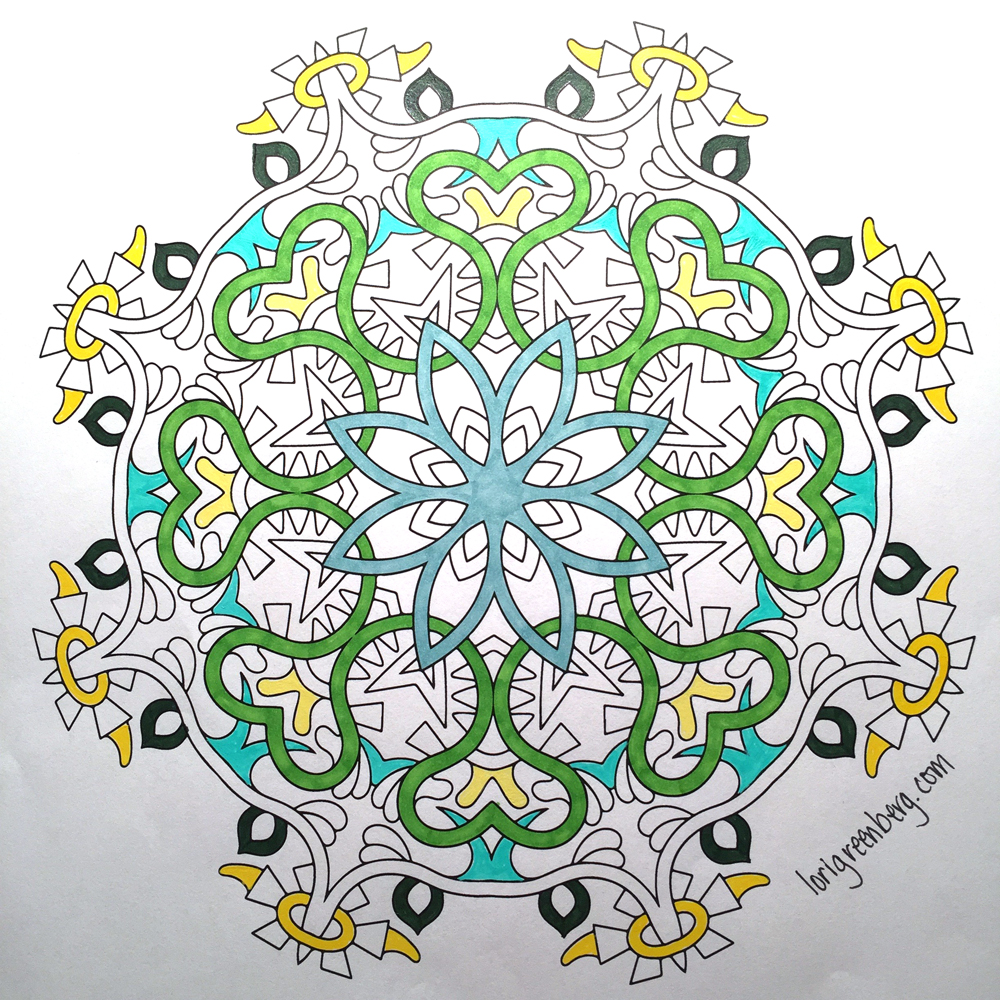 This is as far as I got. I made a commitment to go into the studio and color (or do something else creative) for at least an hour in the morning, after school drop-off. This page is from Meditative Mandalas – Lori's Mandala Coloring Book for Adults – Volume 1, due out next month, as well as Volume 2 – Relaxing Mandalas.
Now, back to working on Volume 3 – Calming Mandalas.