Category Archives:
tutorials
Don't let the title fool you.  Hot Connections Jewelry:  The Complete Sourcebook of Soldering Techniques by Jennifer Chin is not just about soldering and connections.  In fact, the majority of the book teaches the reader about all aspects of fabrication and working with metal to make jewelry.  More than you bargain for!
Having dabbled in soldering techniques myself, reading other books and tutorials on the subject and having just about everything it takes to do this type of work, I was very excited to receive this book for review.  Something was missing from my technique and something called "The Complete Sourcebook of Soldering Techniques" seemed to be just what I needed.
You see, when I take up a craft, not only do I like to learn all I can about the technique involved, but I go deeper.  I like to learn about the materials, at what temperatures do they do what, how do the elements have an effect on them, how long will they last, etc.
So, as I started reading I was ecstatic to find that the properties of metals were described.  Their make-up, melting points, etc.  But don't worry, for you non-information-nerds, it is covered in a concise, easy to peruse fashion.  I love that about this book.  Tons of information but laid out in such a way that you can ingest it easily.
As I read through torch information, safety and workspace set up, imagine my surprise when I got to chapter two.  Essential Fabrication & Soldering Techniques.  The surprise to me was the amount of time and attention to fabrication this chapter started.  I've read plenty of materials on fabrication and this book covers a LOT…
measuring, scribing, sawing, filing. bending, hinges, drilling, sanding, riveting, forging, dapping, chasing, reticulating, embossing with a rolling mill, patina, polishing…should I go on?
Jackpot! in this here book!
I would consider myself an intermediate beginner.  I know basically what I'm doing, I have the whole metal working set up, I just need some practice and time at the bench.  I already know how to make jump rings and ear wires (there is instruction in the book for that).  Perfect for a beginner or someone who wants to start making their own components.  But the book goes on to more intermediate and advanced techniques as well.  Hinges, reticulation, flush stone setting, pin backs, mixing metals, inlay…
If you are interested in metal jewelry technique, you need this book.  Let me say that again…If you are interested in metal jewelry technique, you need this book.  It is my new sourcebook for this type of work.
Oh, and of course, GORGEOUS photos in the tutorials and of accomplished artist's pieces.  I also like the hand-drawn illustrations that accompany the photographs.  Kudos to Jennifer Chin and Potter Craft Publishing.
You can purchase this book on Amazon.com or Barnes & Noble online.
NOTE:  I received a book for review from the publisher but do not receive anything from sales resulting from links on this page or any other future sales.
Free tutorial for making these earrings at Diana Ferreira's blog.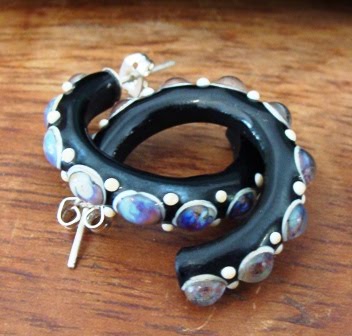 The great thing is, you can do it with equipment you probably already have.
Good luck!