When I'm messing around with new colors I love to make hollows. There is something soothing about them and you can see the opacity and transparency of a color and how the light plays through it. Hollows can be frustrating to make but once you get the hang of it you won't be able to stop.
The following tutorial is a method I use when making larger hollow beads. If you have attempted that you might have realized that your bead release may want to give out since there is such little surface area contact in contrast with how much glass you are adding to your mandrel. The second benefit is that the beads are easier to clean and thirdly, they're easier to string, if that's what you're doing with them.
It's not a new technique but it's pretty basic and straightforward. So, let's get to it:
Step 1
Wind a footprint of glass as wide as you will want your bead to be. To keep down on weight (another joy of hollows) keep this footprint thin.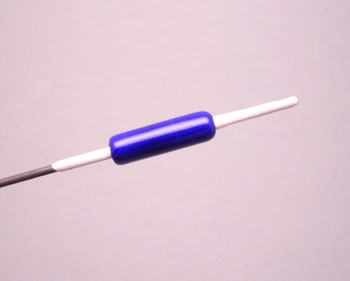 Step 2
Begin to build up disks on each end of the initial footprint. Make sure the disks are right on the edges of the footprint. This will help to create nice ends around the hole of your bead. Be sure, especially on bigger beads, to keep wafting the entire mass through your flame. The disks you're working with are thin and cool quicker and are therefore more prone to cracking. This could take some practice.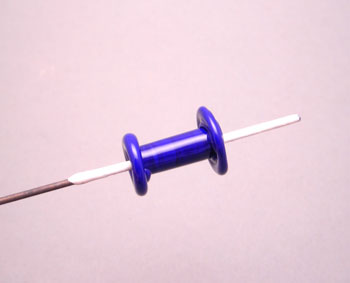 Step 3
Continue adding on more bands of glass on top of your disks. Alternate between sides and make sure you're keeping everything hot enough not to crack from cooling, but cool enough that they don't start to droop in. As you build up your disks, start to work your bands of glass in towards the center. You can also alternate rod colors for different bands and different effects.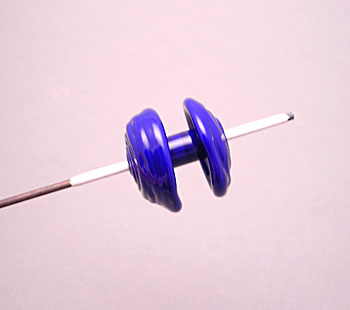 Step 4
As your disks start t build up, if you notice that they're more straight up and down rather than going towards each other nicely you can gently use a tool to coax them that way. Graphite is best because there is no drag and it won't distort the fragile molten disks. You can also use a flat marver. Whatever you use, be gentle since disks move more quickly than a molten mass of glass. You'll see what I mean when you try it!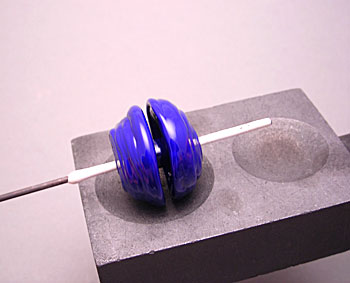 Step 5
Once your bands are close enough together that one band of glass from the rod can fill the gap, close up the hole. If there are areas that are too wide for the width of the rod to span it, continue going around your bead and come back and fill in that hole.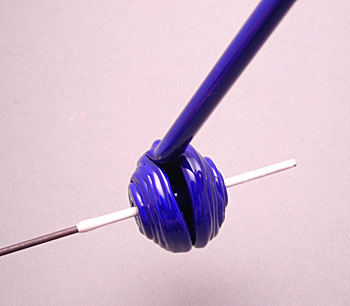 Step 6
Work until there are no holes or gaps. It will look lumpy and bumpy but that's ok. Now is time to gently heat and let the bead come into round.
Step 7
If you find that your holes are becoming pointy, heat only the glass around the hole and slant your mandrel so that the glass moves towards it. Be careful in this last step since it will be easy for your glass to get out of control. It takes practice and patience…don't try to work too fast.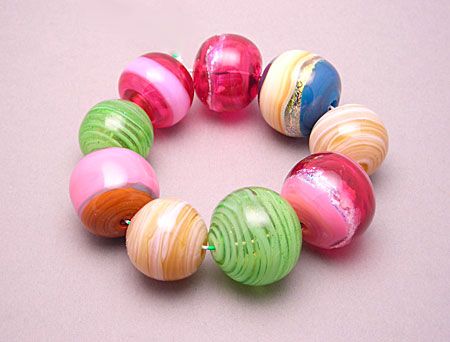 If you like this tutorial, make sure to subscribe this blog! Just click the orange subscribe bar up there on the right and choose if you want it to come to your email or, If you know what a blog reader is, you can do that too!