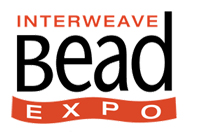 I have a show coming up May 2, 3 and 4th at the Phoenix Convention Center.  BeadExpo Phoenix, put on by Interweave (you know, Step by Step Beads, Beadwork, Step by Step Wire, etc.)  It's going to be a doozie.  Stop by and see me if you're in the area.  Hey, why not make a special trip to see me?  I know that Susan Nestor is coming just to see me…and you know she's a rockin' good time.
And that only means one thing for you, my web site readers…lots of beads coming up for sale on the bead site.  I mean, I can't be making all that inventory and not sharing it with you, can I?  It would make too much sense to hoard my inventory for a big show, wouldn't it?  I need a little stress to keep me on my edge.
And you newsletter subscribers know that you get first notice of new beads up, right?  Don't worry about signing up and getting spammed.  I can't get my web act together enough lately to qualify as spam.  Be sure to subscribe!  (You get cool sales too, that are double top secret).