Here's a photo journey of the studio tour. This is the tour in the area where 45 artists open their studios to the public and each host up to four other artists. I had an oil painter on the front patio but I didn't get a picture of her set up. Here is what the back of the house looked like with two exhibiting artists on the back patio. Each of their set-ups is about a 10′ x 14′ space. Dontcha love the beautiful blue sky?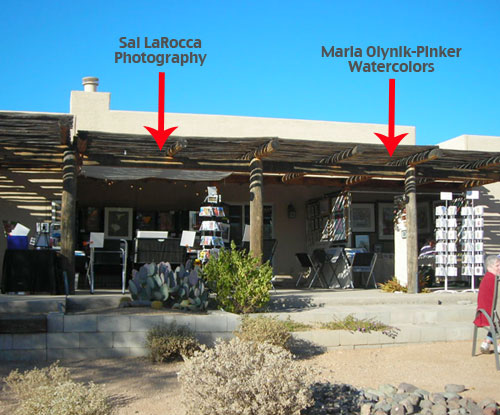 To the left of these artists is a snack table and then the entrance to my studio.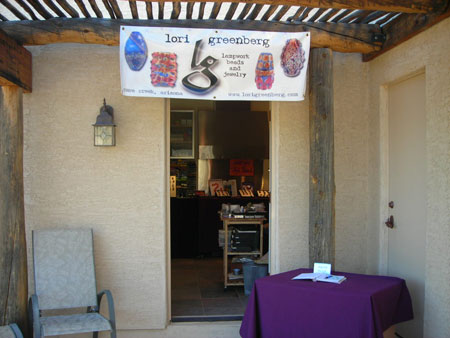 When you walk in and turn 180 degrees to your left you would have seen my neck cord and earring displays of shutters hanging on my big cabinet. This years goal was to keep it simple…not a lot of options to overwhelm the gift-buying customer. You can see my Jen Geldard poster in the background…it's one of the two pieces of 'other people's art' that was left up during the tour.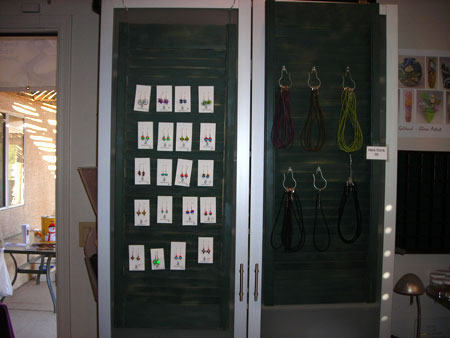 Continue by turning to your right and you see the jewelry for sale in my new fangled display trays that I created so that pieces could be tacked to the backing in a way that allows them to still be handled but easier to view in the upright position.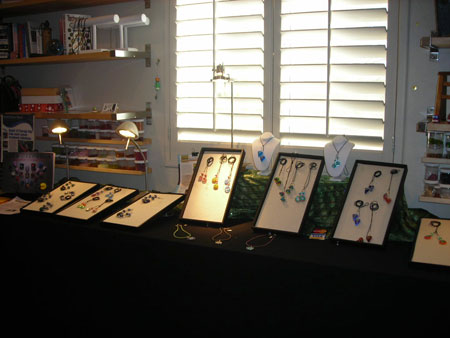 Turn right again and you would have seen the start of the focal beads for sale and a video playing on the computer.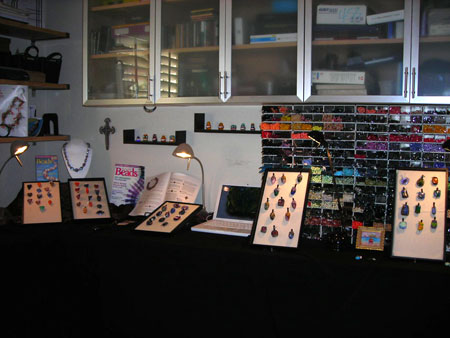 Continue down that counter space and it's the rest of the beads with my 'Wear Your Art Bead' sign and books and calendars for sale.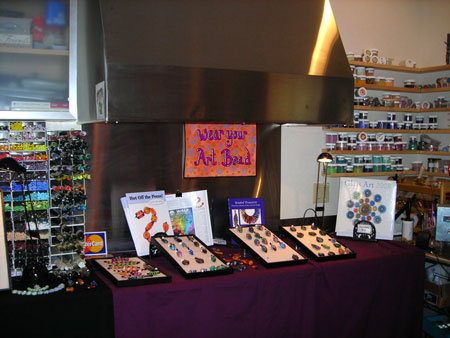 If you would turn right you would see me at the torch and off to the side my mom working the credit card machine.
So, thems the basics.  Stay tuned for Part 2 tomorrow when I talk a little more about my kinda-new display set-up and what needs tweaking.  Needs to be tweaked?
Now would be a good time to subscribe to this blog so you don't miss anything. You can even have these posts delivered to your email.